While drinking your daily intake of recommended water will make you feel better from the inside out, your skin cannot retain moisture without the proper balance of electrolytes. Did you know that one of the most common causes of dehydrated skin is an electrolyte imbalance? This can be caused by anything from improper diet, medications, or a hormonal imbalance.
March Special! Hydrojelly Facial for $125 (reg. $175) until March 31st, 2022! A 45. min treatment that includes a custom facial treatment and Hydrojelly mask. Request to book below!
Hydrojelly Mask Benefits
Hydrojelly masks will instantly infuse your skin with a blast of essential nutrient-rich electrolytes that your skin needs – including Potassium, Magnesium, Sodium Chloride, Phosphorus, Bicarbonate, & Sodium Pryophosphate.
We know that the facials at Illume MedSpa are already a glorious experience – who doesn't love to have their skin gently exfoliated, feel the warmth of hot towel compresses on their skin, and breathe in the delicious spa scents? Well, we actually found a way to amplify your experience at Illume while delivering powerful skincare nutrients to your skin: our new electrolyte-infused Hydrojelly Masks!
These masks start off in powdered form and are activated with purified water for each application. As the water mixes with the powder, it forms a liquid "jelly" that is applied to the area. After about 15-20 minutes, the Hydrojelly solidifies, creating a vacuum seal that pushes all the beneficial ingredients into your skin's pores. After that it can then be peeled off with little to no residue.
Each mask is infused with electrolytes derived from algae that benefit your skin by helping achieve a natural moisture balance, resulting in healthy, hydrated, and supple looking skin. These Hydrojelly masks have incredible soothing and calming effects – the perfect way to put the finishing touch on our signature facials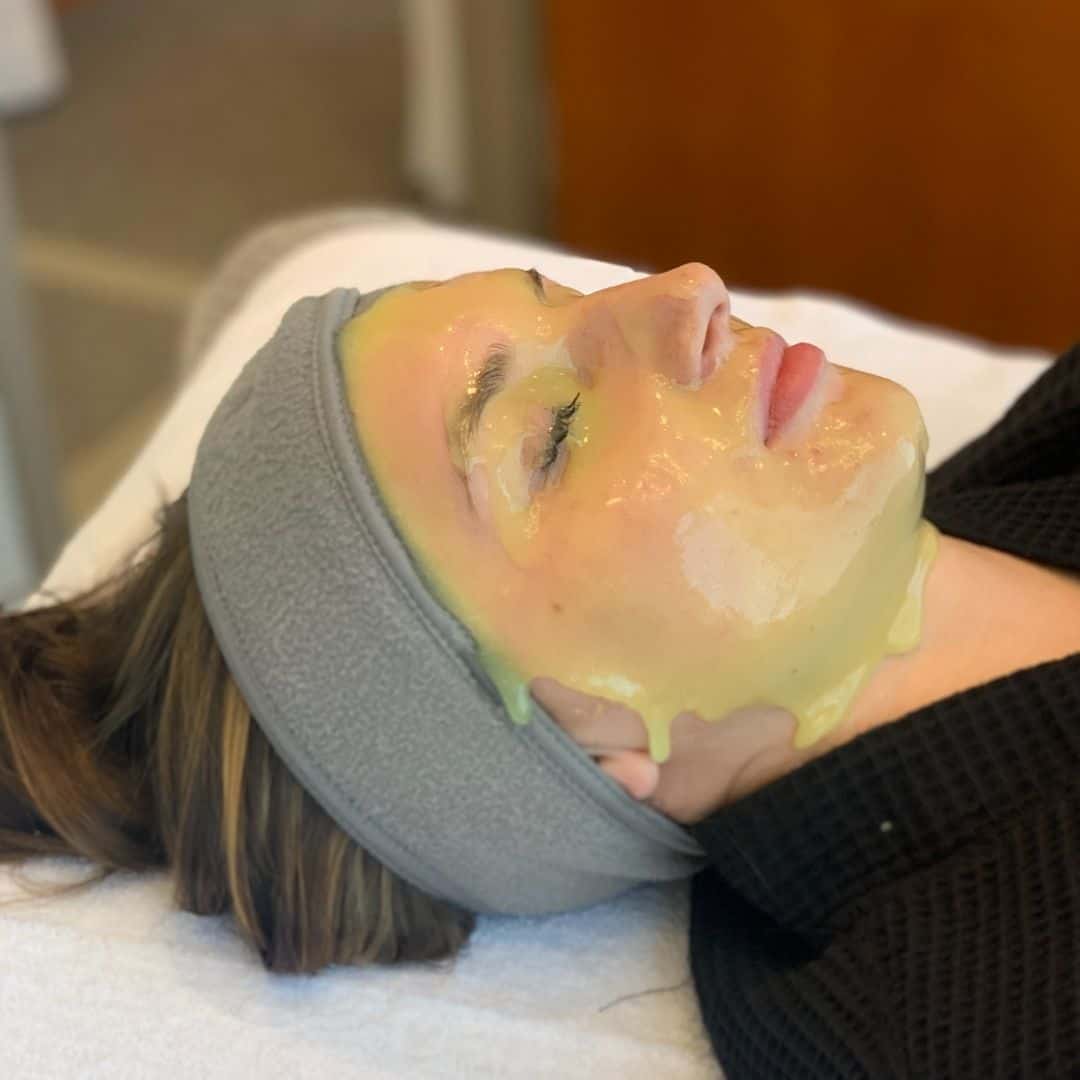 The masks themselves are a delight to experience. Most facial masks neglect the eye and lip areas, but our Hydrojelly masks can go over the eyes and lips, amplifying the benefits for your entire face.
The mask causes no damage to your brows or lashes, and can be used immediately after a lash or brow tinting without affecting the color. As soon as the mask is applied by your esthetician, you immediately feel its cooling properties and smell its floral aroma. After the mask is removed, a warm towel compress completes the experience and removes any excess material from your face, leaving your skin hydrated, plump, and nourished.
ANTIOXIDANT GOJI – Regenerating and Radiance
SKIN TYPE: All Skin Types, Muture skin, Sun Damaged Skin, Dry skin, Dull Skin
BENEFITS
Rich in antioxidants to help eliminate free radicals and damage to the skin.

Promotes anti-aging and anti-oxidant properties due to its high concentration Of Vitamin C.

Promotes a translucent, lustrous and even-toned complexion.

Helps facilitate skin repair by promoting dermis and epidermis regeneration.

Improves skin vitality and energy.

Increases collagen levels and boosts skin fullness.
SKIN WARRIOR AGELESS – Firming and Elasticity
SKINCARE CONCERNS: Loss of firmness and Elasticity, Fine Lines and Wrinkles, Dullness and Uneven Texture
WHAT IT IS:
Skin Warrior Ageless restores and rejuvenates the skin leaving it healthier, firmer and much more radiant. Treat your skin with this refreshing formula infused with ginseng, known for its smoothing and moisturizing properties. Ginseng helps skin feel hydrated and smoothed, leaving behind a glowing complexion. Pat into skin for an instant feeling of refreshing comfort for skin that is supremely soft. Helps strengthen the skin's connective tissues and keeps the skin looking plump and smooth. Penetrates the surface to refresh, and restore radiance to tired skin.
BRIGHTENING COMPLEX – Inhabits Melanin and Lightens Skin
SKIN TYPE: All Skin Types, Hyper-pigmentation, Discolouration, Aging Spots, Sun Spots, Sun Damaged Skin, Melasma, Freckles.
BENEFITS
Reduce pigmentations and lightens skin tone overall.

Limits over-production of melanin.

Inhibits the intensification of tyrosinase.

Illuminates the skin to reveal a subtle glow.

Reduces pigmentation and diminishes the appearance of age spots, blemishes and discoloration.

Promote a translucent, lustrous and even-toned complexion.
Get in Touch
With board-certified plastic surgeons, two state certified surgical operating rooms, an anesthesiologist, and a team of specialized, credentialed nurses Illume provides ready availability for whatever cosmetic service or surgery you need. Let us help you Live Life Beautifully!