Moxi Laser Treatment at Illume Franklin (formerly L'Image), Milwaukee, and Waukesha
MOXI Laser Treatment in Milwaukee
MOXI Laser is a gentle, yet effective resurfacing treatment that's safe for ALL skin tones and offers little-to-no downtime. MOXI improves skin tone and texture, corrects uneven pigmentation, treats minor laxity and more.
It's a great prejuvenation treatment for younger patients looking to delay the signs or aging or as a regular maintenance treatment for anyone looking to maintain a flawless complexion. 
MOXI Laser at Illume Franklin (formerly L'Image), Milwaukee, and Waukesha 
An Aesthetic Laser for All Skin Types
MOXI Laser is a gentle, yet effective non-ablative resurfacing treatment. It's safe for all skin types, year-round. MOXI improves skin tone, uneven texture, treats sun damage, rosacea, acne, and minor laxity. MOXI also activates the body's natural healing process, stimulating collagen production.
MOXI is a great regular maintenance treatment or  "prejuvenation" treatment for younger patients looking to delay and prevent early signs of aging.
The laser skin resurfacing takes only about 30 minutes. Topical numbing cream can be applied to minimize discomfort. Post-care of the treatment area is simple and makeup can be applied 24 hours after treatment. 3-4 treatments are recommended for optimal results.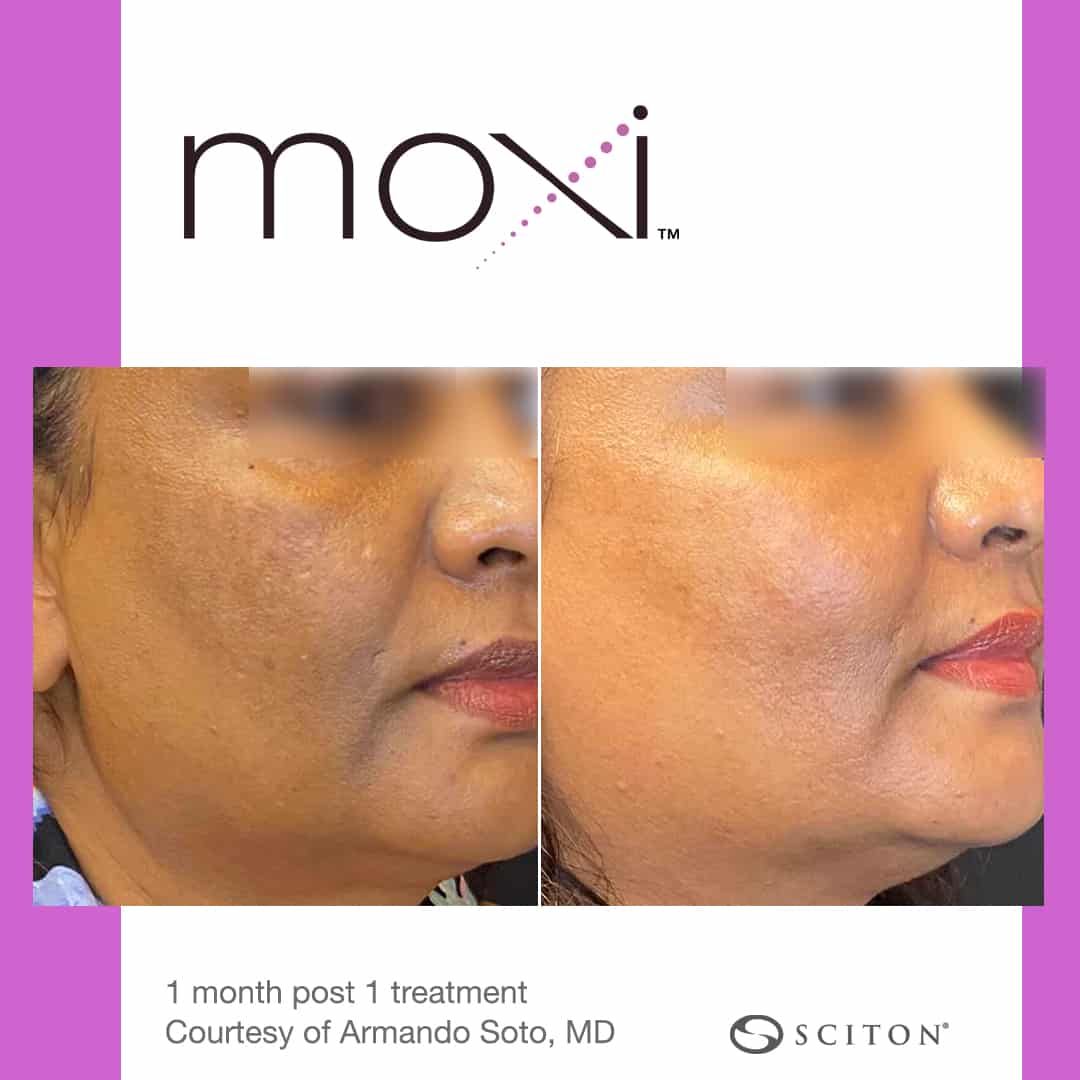 MOXI provides unique benefits including:
The ability to treat all skin types, any time of year

Promotes collagen production
Safe for men with facial hair
As a prejuvenation treatment, it helps to delay the signs of aging

Little-to-no downtime

Makeup can be applied 24 hours post-treatment

Optimal results in 3-4 treatments
MOXI Laser treats the following
Light sun damage

Skin discoloration and melasma

Early signs of aging

Fine lines & wrinkles

Poor skin texture

Minor laxity

Improve the appearance of Light Scars

Uneven skin tone
Before & After Moxi Laser Treatment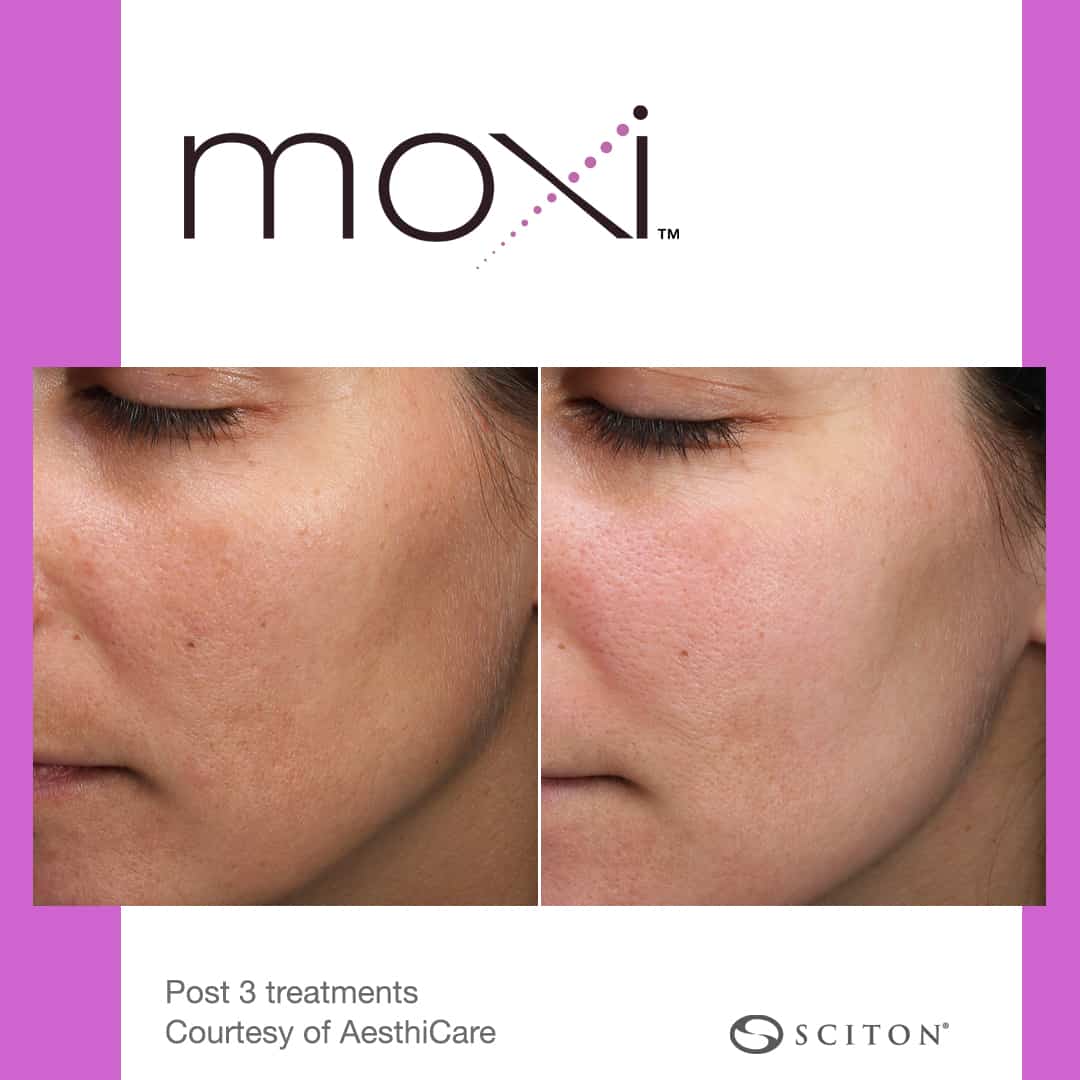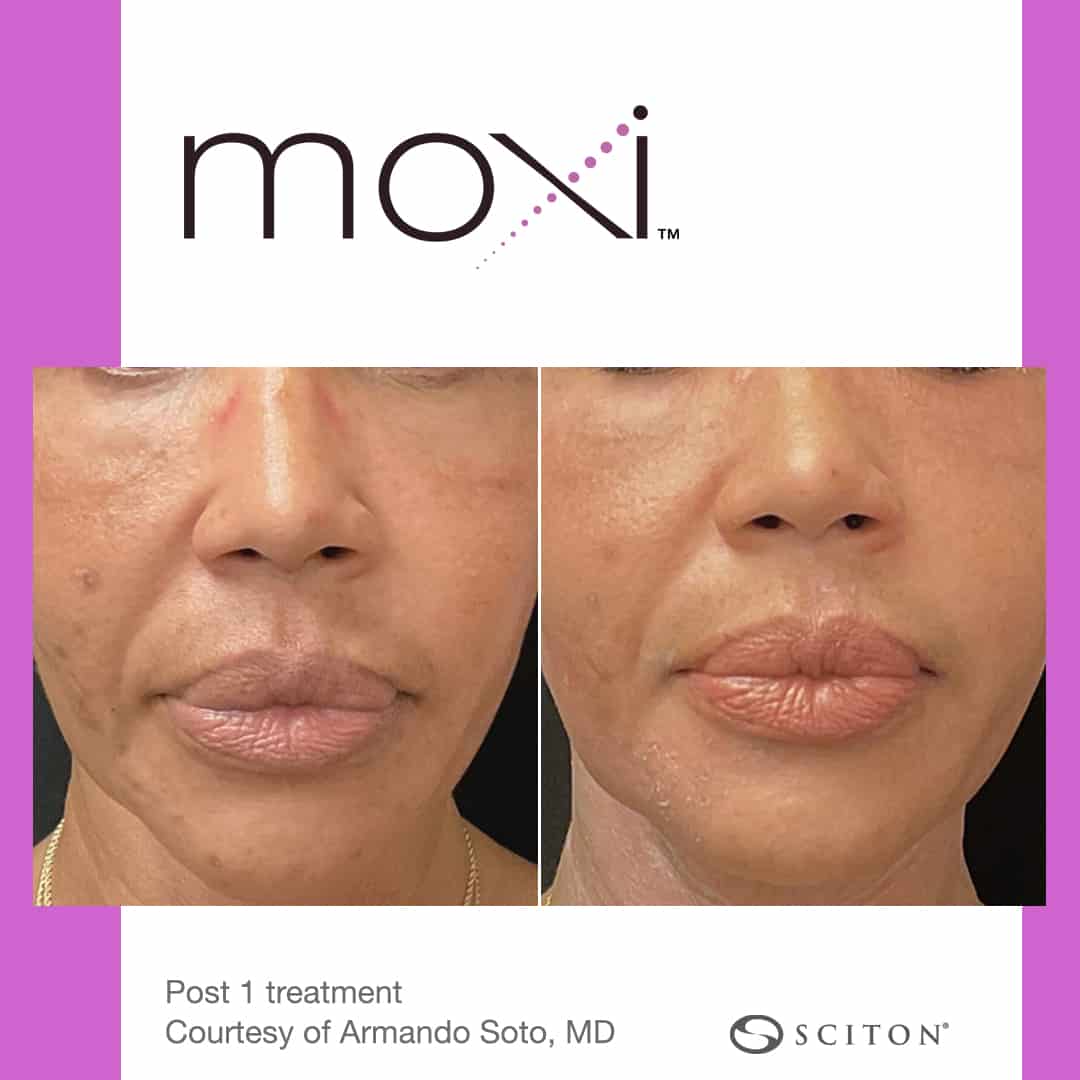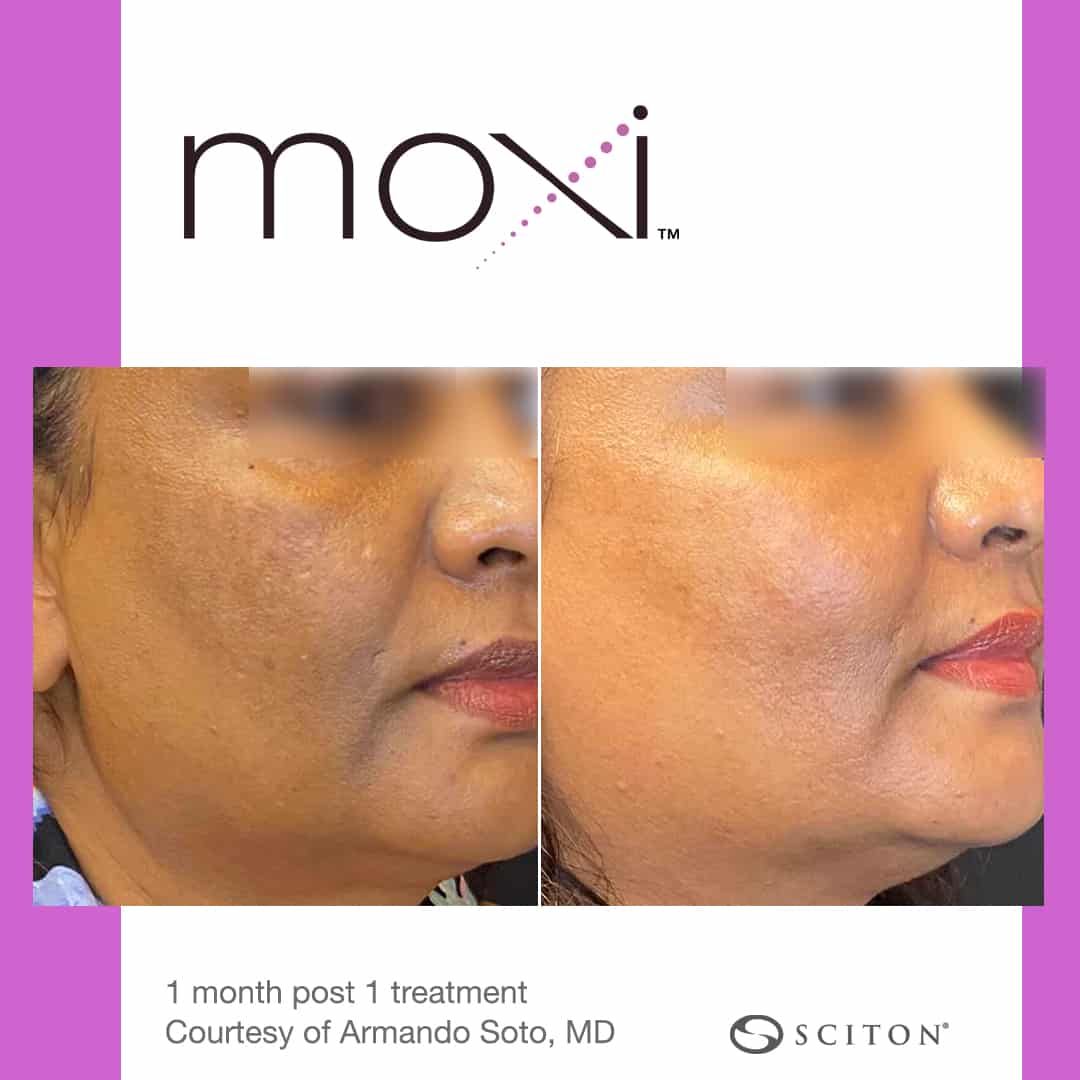 Frequently Asked Questions About Moxi Laser Treatment in Milwaukee, WI
How does it work?
Moxi delivers fractionated laser energy to create micro-coagulation zones which the body then repairs, replacing damaged cells with fresh new ones. Moxi is designed to provide tonal and textural improvements to your face with low downtime, resulting in skin renewal.
How comfortable is the treatment?
Depending on the level of treatment provided, most patients find the treatment well tolerated.  Your practitioner may use cooling air and recommend numbing cream to help ensure your treatment is as comfortable as possible.
How long does it take to see results?
Results vary depending on your treatment goals. For the day following your treatment, your skin may appear red and, depending on your level of treatment, you may see the small micro dots called mendz where the laser was applied. As the micro zones heal, they will darken and feel rough. Between days 3-5, the mendz will slough off, revealing the renewed skin beneath. 
What is the post-care?
Because this is a non-ablative fractioned treatment, the post-care regimen is simple. Wear moisturizing physical sunscreen and stay out of the sun. We recommend you wear sunscreen every day after the procedure to avoid causing any sun damage to the skin. You may wear makeup 24 hours after your treatment. Once the procedure is completed, adding in a skincare routine to help improve your skin and keep up with your Moxi laser treatment results is recommended. 
How many treatments will I need?
This will depend on your treatment goals and level of damage. Most patients receive 3-4 corrective treatments, then often will sign up for regular maintenance treatments throughout the year.
Get in Touch
With board-certified plastic surgeons, two state certified surgical operating rooms, an anesthesiologist, and a team of specialized, credentialed nurses Illume provides ready availability for whatever cosmetic service or surgery you need. Let us help you Live Life Beautifully!