Creating elegance and facial harmony
Nose Surgery
(Rhinoplasty)
Nose Surgery can enhance your appearance, balance your features, and improve your self-confidence. If you are dissatisfied with the shape or proportion of your nose, or are looking to help relieve breathing problems, Rhinoplasty may be for you! A personal consultation with one of our board-certified surgeons is the first step for every patient considering a rhinoplasty. Book your consultation today!
Nose Surgery (Rhinoplasty) in Milwaukee
Rhinoplasty is a cosmetic procedure that can reduce or increase the size of your nose, change the shape of the tip or the bridge, narrow the span of the nostrils, or change the angle between your nose and your upper lip. A nose job may also correct a birth defect or injury, or help improve breathing by relieving some breathing problems.
THE BEST CANDIDATES FOR NOSE SURGERY (RHINOPLASTY)
Before you decide to have surgery, think carefully about your expectations and discuss them with members of our medical team. The best candidates for cosmetic rhinoplasty are people looking for minor improvements in the appearance of their nose. Rhinoplasty surgery is never intended to change the person. If you're physically healthy, psychologically stable, and realistic in your expectations, you may be a good candidate.
Age may also be a consideration. A patient must be 16 years of age for a cosmetic rhinoplasty performed by our surgeons. For medical issues and accidents, our surgeons will assess patients under the age of 16. The decision to perform a medical rhinoplasty on a patient under the age of 16 will be on a case-by-case basis.
It is also important to take a teenager's social and emotional adjustment into consideration.
WHAT SHOULD I EXPECT FROM THE NOSE SURGERY CONSULTATION?
During this meeting, one of our board-certified plastic surgeons will ask what you'd like your nose to look like, evaluate the structure of your nose and face, and discuss the possibilities with you. We will explain the factors that can influence the procedure and the results.
These factors include the structure of your nasal bones and cartilage, the shape of your face, the thickness of your skin, your age, and your expectations. We will also use the VECTRA 3D imaging system to aid our surgical planning. Good communication between you and your physician is essential.
Most insurance policies don't cover cosmetic surgery. If the procedure is performed for reconstructive purposes, to correct a breathing problem or a marked deformity following injury, the procedure may be covered. Usually several prerequisites must be met prior to becoming eligible. In an effort to expedite your insurance prior authorization, we recommend you contact your insurance carrier to find out these prerequisites.
To make this procedure accessible to all our patients we provide Financing options.
Call (414) 439-3000 for a cosmetic consultation.
During your plastic surgery consultation, we will use the VECTRA 3D imaging system to aid our surgical planning. The process includes:
Photo session. We will begin by capturing a three dimensional photo of your treatment area. The VECTRA 3D camera takes multiple photos simultaneously from different angles. These images will be used to build a 3D model of you in our system.
Software simulation. In consultation with one of our doctors, you will manipulate your 3D image to see how each surgical procedure may affect your overall appearance. This is the time to experiment, such as with different breast implant sizes for your breast augmentation, and see how your choices will affect your results.
Surgical plan. After confirming what your desired results are, our doctors will use the 3D image as the basis for your surgical plan.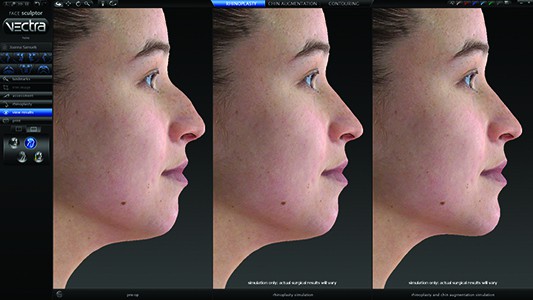 RHINOPLASTY RECOVERY
After the nose job, particularly during the first twenty-four hours, your face and nose will be swollen and you may have a dull headache. It is recommended that you avoid strenuous activity during this time. Ice packs to the nose and the pain medication prescribed by the doctor will help the discomfort.
Plan on resting with your head elevated and ice packs to your nose for the first 24-36 hours. Most of the swelling and bruising should disappear within two weeks after surgery. Some subtle swelling will remain for up to a year.
A little bleeding is common during the first few days following surgery, and you may continue to feel some stuffiness for several weeks. If you have nasal packing, it will be removed after a few days and you'll feel much more comfortable. By the end of one, occasionally, two weeks, all dressings, splints, and stitches should be removed.
ALL NOSE SURGERY CARRIES SOME UNCERTAINTY AND RISK
When a rhinoplasty is performed by one of our qualified plastic surgeons, complications are infrequent and usually minor. Nevertheless, there is always a possibility of a complication, including infection, nosebleed, or a reaction to the anesthesia. You can reduce your risks by closely following our medical team's instructions both before and after surgery. In about 8-10% of surgeries a second procedure may be required to correct a minor deformity.
GETTING BACK TO NORMAL
Most patients are up and about within one to two days, and able to return to school or sedentary work a week or so following surgery.
We will give you more specific guidelines for gradually resuming your normal activities. Healing is a slow and gradual process. Some subtle swelling may be present for months, especially in the tip. The final results of rhinoplasty may not be apparent for a year or more.
Get in Touch
With board-certified plastic surgeons, two state certified surgical operating rooms, an anesthesiologist, and a team of specialized, credentialed nurses Illume provides ready availability for whatever cosmetic service or surgery you need. Let us help you Live Life Beautifully!