Creating Elegance and Facial Harmony
Nose Surgery in Milwaukee
Nose Surgery, also known as Rhinoplasty, can enhance your appearance, balance your features, and improve your self-confidence. If you are dissatisfied with the shape or proportion of your nose or are looking to help relieve breathing problems, Rhinoplasty may be for you! 
What Is Nose Surgery (Rhinoplasty)?
Nose surgery is a highly individualized cosmetic procedure. It can reduce or increase the size of your nose in relation to your facial features, change the shape of the tip or the bridge of the nose, narrow the span of the nostrils, or change the angle between your nose and your upper lip. Nose surgery may also correct a birth defect or injury to help relieve breathing problems.
The Best Candidates for Nose Surgery
The best candidates for cosmetic rhinoplasty are those looking to improve the appearance of their nose and/or correct an injury or breathing issues. If you're physically healthy, psychologically stable, and realistic in your expectations, you may be a good candidate.
Age may also be a consideration. A patient must be 16 years of age for a cosmetic rhinoplasty performed by our surgeons. For medical issues and accidents, our surgeons will assess patients under the age of 16. The decision to perform a medical rhinoplasty on a patient under the age of 16 will be on a case-by-case basis. It is also important to take a teenager's social and emotional adjustment into consideration.
NOse Surgery Consultation
The first step for anyone interested in Rhinoplasty is to schedule a personal consultation with one of our Board Certified Plastic Surgeons. During this meeting, one of our surgeons will ask what you'd like your nose to look like, evaluate the structure of your nose and face, and discuss the possibilities with you. We will explain the factors that can influence the procedure and the result, such as the structure of your nasal bones and cartilage, the shape of your face, the thickness of your skin, your age, and your expectations.
Some of our surgeons may use the VECTRA 3D imaging system to aid our surgical planning during your consultation.
Photo session. We will begin by capturing a three dimensional photo of your treatment area. The VECTRA 3D camera takes multiple photos simultaneously from different angles. These images will be used to build a 3D model of you in our system.
Software simulation. In consultation with one of our doctors, you will manipulate your 3D image to see how each surgical procedure may affect your overall appearance. This is the time to experiment, such as with different breast implant sizes for your breast augmentation, and see how your choices will affect your results.
Surgical plan. After confirming what your desired results are, our doctors will use the 3D image as the basis for your surgical plan.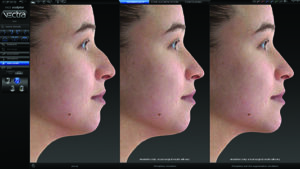 About Nose Surgery and recovery
The surgery will be performed at one of our in-house surgical suites. The procedure generally takes 1-3 hours depending on the case. We care for you in the recovery room for at least one hour before you are discharged.
Rhinoplasty is performed as an open or closed procedure. During a closed procedure, the incisions are hidden inside the nose. During an open procedure, the incision is made across the narrow strip of tissue that separates the nostrils. Through these incisions, the soft tissues that cover the nose are gently reshaped.
Rhinoplasty can also include cartilage grafted from the septum in the middle of the nose or occasionally the ear. Once the desired shape of the nose is achieved, the nasal skin is draped back over the underlying soft tissue and the incisions are closed.
During recovery, most of the swelling and bruising should disappear within two weeks after surgery. Some subtle swelling will remain up to a year.
Rhinoplasty Recovery
After the nose job, particularly during the first twenty-four hours, your face and nose will be swollen and you may have a dull headache. It is recommended that you avoid strenuous activity during this time. Ice packs to the nose and the pain medication prescribed by the doctor will help the discomfort.
Plan on resting with your head elevated and ice packs to your nose for the first 24-36 hours. Most of the swelling and bruising should disappear within two weeks after surgery. Some subtle swelling will remain for up to a year.
A little bleeding is common during the first few days following surgery, and you may continue to feel some stuffiness for several weeks. If you have nasal packing, it will be removed after a few days and you'll feel much more comfortable. By the end of one, occasionally, two weeks, all dressings, splints, and stitches should be removed.
Insurance Coverage and Patient Financing
Most insurance policies don't cover cosmetic surgery. If the procedure is performed for reconstructive purposes, to correct a breathing problem or a marked deformity following injury, it may be covered. Usually, several prerequisites must be met prior to becoming eligible. In an effort to expedite your insurance prior authorization, we recommend contacting your insurance carrier to find out these prerequisites.
Our goal is to make plastic surgery available to any patient who is qualified. We accept all major credit cards and offer several patient financing options to make the process as easy and affordable as possible. Our plastic surgery financing partners include CareCredit, Alphaeon, Prosper, and CosmetAssure. Learn more about your patient financing options here or contact us for more information.
Before and After
Nose Surgery Gallery
Nose Surgeries performed at our Milwaukee and Waukesha locations are done by a board-certified surgeon and have been proven to show great results. Contact us today to learn more about your options and how we can help balance your features and achieve facial harmony.