Illume Cosmetic Surgery & MedSpa
Frequently Asked Questions
Navigating cosmetic surgery questions? Our team of board-certified plastic surgeons is here to provide answers. Whether it's about procedures, recovery, or expectations, we've got you covered. Don't hesitate to get in touch for any additional questions.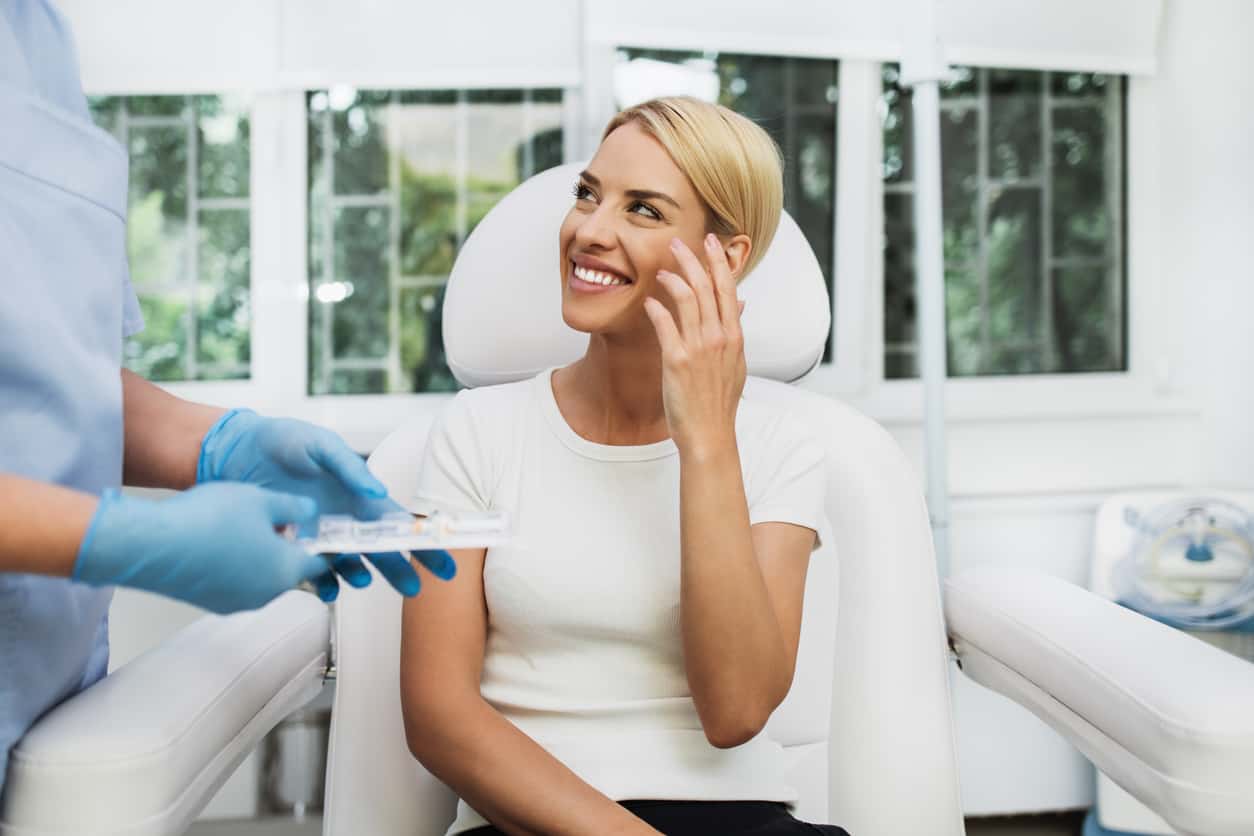 Is Illume a Chain?
No, Illume is not a chain. Illume began with the merger of two local practices in 2019. Since then, we've grown to become the largest cosmetic surgery and medspa practice in the Milwaukee area with three locations in Franklin, Milwaukee, and Waukesha. We're able to provide our patients with the widest scope of treatment options and more convenience while maintaining the highest level of care and providing the best outcome possible.
What types of surgeries are offered at Illume?
We offer a wide range of both cosmetic and reconstructive surgeries. Some of our most popular surgical procedures include breast augmentation, mommy makeovers, facelifts, tummy tucks, and more.
What services outside of surgery are offered at Illume?
We offer skincare, laser, injectable, and weight loss treatments at our physician-supervised medspas. These treatments include hydrafacials, chemical peels, Moxi laser, Botox, lip filler, vitamin injections, Semaglutide, and more. Each treatmet will be tailored to your specific skin type for optimal results. 
Where are the Illume facilities located?
We have locations in Franklin, Milwaukee (Glendale), and Waukesha, WI
Do all of your locations offer similar surgeries and procedures?
All 3 locations offer both surgical and medspa consultations, minimally invasive procedures, medspa services, and weight loss programs. Our in-house surgery centers are located only at our Milwaukee and Waukesha locations.
Does Illume have hospital privileges?
Yes, we have privileges at multiple hospitals in and around the Milwaukee area.
What is your cancellation fee policy?
We require a 48 hour notice to cancel all physician appointments or your $100 consultation fee is forfeited. For aesthetic and medspa visits we require a 24 hour notice or there is a $50 fee. These are to help keep appointments as open and available as possible for our patients. 
How far out do you book for consultations and surgery?
Consultations with our physicians are typically 2-4 weeks out depending on your availability and preference on surgeon or location. Surgery is generally booked another 4-8 weeks out from there.
About Illume Surgeons & Staff
How many surgeons are on-staff at Illume?
We have 6 physicians on-staff at Illume.
Who is the best physician?
All our physicians are highly trained and qualified, making sure that patient care is exceptional. Certain physicians perform more of particular procedures than others. We will try to guide you to a doctor who matches what you're looking for.
What are the qualifications that the surgeons at Illume?
Our physicians are Board Certified by the American Board of Plastic Surgery. This Certification is a voluntary credential. By choosing a plastic surgeon certified by the ABPS, you can be assured that the surgeon has completed the appropriate training and passed comprehensive written and oral examinations covering all plastic surgery procedures.
What are the qualifications of the MedSpa providers at Illume?
Our Medspa team consists of Registered Nurse Injectors, Licensed Aestheticians, and Laser Technicians. Our providers receive direct training from representatives of the products we offer as well as from our Board Certified Plastic Surgeons. They are specially trained to provide each service we offer.
Do you work with board certified anesthesiologists?
Yes, we work exclusively with ANEX Anesthesia group. All of our general anesthesia cases are performed with board certified anesthesiologists.
What procedures does Illume specialize in?
With 6 physicians, we offer a wide range of both cosmetic and reconstructive surgeries, from mommy makeover procedures to hand surgery to breast reconstruction.
Do I need a consultation for a non-surgical treatment like injectables or Botox?
If you are unfamiliar with these treatments, we highly recommend a free consultation with one of our RN Injectors. They will go over treatments in detail, recommend the best treatment options, check your medical history, make sure you are a good candidate for the procedure, and answer any questions you may have.
What should I expect during my initial consultation with a plastic surgeon at Illume
During this meeting, one of our surgeons will assess your physical and emotional health and discuss your specific goals for surgery. They will assist you in deciding which procedures are best for you and answer any questions you may have. Our surgeons will also go over all risks and possible complications of a procedure, steps for recovery, and will help to provide an idea of expected results.
Can I see before and after photos of previous patients who have had a similar procedure?
Yes. You may find before and after photos on our the service pages on our website, as well as our before and after gallery. You will also be shown photos during your consultation.
What Should I Wear to a Plastic Surgery Consultation and Procedure?
Street clothes are acceptable to wear to your consultation. If you're having a consultation for a body or breast procedure, you will be asked to change into one of our clinic robes provided to you. We recommend wearing loose, comfortable clothing for the day of your procedure. Clothing options for the day of your surgical procedure will be discussed at your pre-surgery appointment.
I Exercise on a Regular Basis. Will I Have Any Restrictions Following My Surgery?
You will need time to recover after surgery and exercise will be restricted for a period of time following your surgery. Specific post-care instructions, depending on the procedure and each individual, will be given to you at your pre-surgery and follow-up appointments.
I Take a Variety of Vitamins and Supplements. Can I Continue to do so Before and After Surgery?
It is important that each patient does not eat or drink anything 24 hours prior to their surgery. Specific pre and post-care instructions will be given to you at your pre-surgery and follow-up appointments.
What risks are involved with Plastic Surgery?
Risks vary with each type of surgical procedure. In general, risks can include anesthesia risks, risk of infection, and the possibility of revisional surgery. You will go over facts and risks during your consultation. You will also be asked to sign a consent form, stating that you understand the facts and risks of your surgery, prior to the procedure.
hat is the benefit of in-house surgery centers?
We are the only cosmetic surgery practice in Wisconsin with two independent, in-house certified surgery centers. Our in-house surgery centers and recovery rooms offer patients more comfort, privacy, and less risk of infection compared to surgeries performed in a hospital setting. They also help us control the costs of procedures making them more affordable for our patients.
The American Association for Accreditation of Ambulatory Surgery Facilities (AAAASF), the Accreditation on Association for Ambulatory Health Care (AAAHC), and Medicare (CMS) all certify our centers according to rigorous national requirements on safety, emergency preparedness, staff credentials, and more
Should I expect follow up visits?
Yes, follow ups will be necessary to remove sutures and drains.
How quickly can I work out again after getting surgery?
You will be given specific recovery instructions by one of our physicians. Clearance to resume exercise will depend on the type of procedure and each individual.
How quickly can I go back to work after getting plastic surgery?
Recovery will depend on the type of procedure and each individual. You will be given specific recovery instructions by one of our physicians.
Do you offer free consultations?
We offer free consultations for all medspa and weight loss services. Surgical consultations are $100 and paid at the time of scheduling. That $100 can be applied towards the cost of your procedure if you decide to move forward with surgery. 
What are the financing options available?
Our goal is to make plastic surgery available to any patient who is qualified. We accept all major credit cards and offer several patient financing options to make the process as easy and affordable as possible. Our plastic surgery financing partners include CareCredit, Alphaeon, and Prosper. Illume pays the interest for 6 month financing on all 3 plans. See our Patient Financing page or contact us to learn more about our financing options.
What forms of payment do you accept?
We accept Cash, Check, Bank/Cashier's Check, Credit Card (Visa, Mastercard, Discover, American Express) and CareCredit, Alpheon or Prosper financing. We also participate in the IMS Barter program.
Illume Cosmetic Surgery & MedSpa
Average rating:
0 reviews