BOTOX® at Illume $10/unit
No membership fees,

No prepayments,

No catch
Botox® is a popular, FDA-approved treatment to smooth out facial lines and wrinkles caused by muscle movement. It's commonly used to treat horizontal forehead lines, facial wrinkles, crow's feet, and vertical lines between the eyebrows. Our Registered Nurse Injectors strive for natural-looking results for the treatment area, making you look more youthful and rejuvenated – not frozen! Book a complimentary medspa consultation to learn more about Botox® below!
Botox at Illume Milwaukee, Franklin, and Waukesha
Botox® at Illume is just $10/unit! No membership fee, no prepayments required, no catch. Just $10/unit!
What is Botox?
Botox® Cosmetic is a drug used for the temporary improvement in the appearance of moderate to severe frown lines, crow's feet, horizontal forehead. By using small injections of botulinum toxin (Botox®) in the injection site, the muscles relax, allowing facial folds to soften.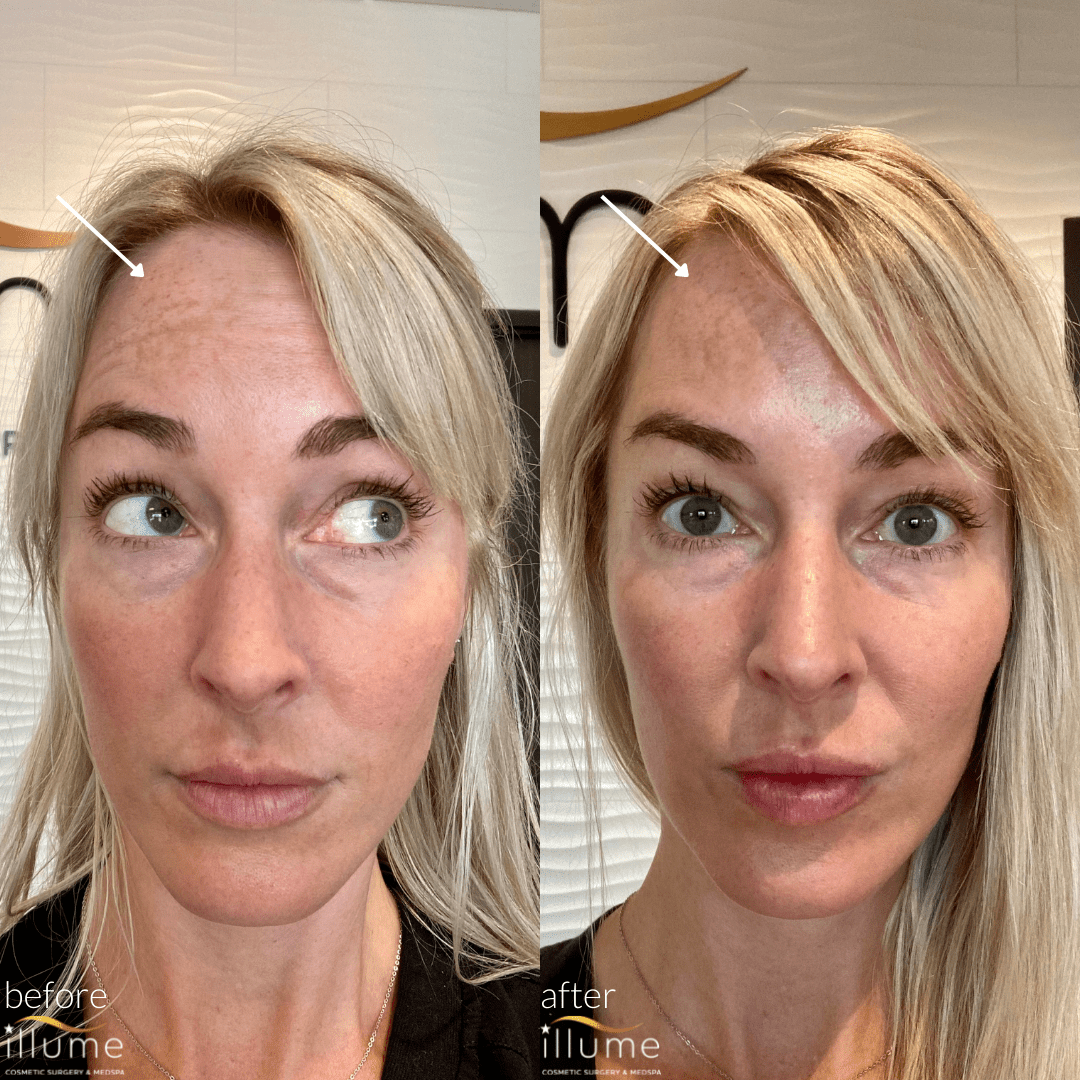 We are the largest provider of Allergan injectables (Botox & Juvederm) in the Milwaukee area. All our injectors go through hands on training with Board Certified Plastic Surgeons with on-site assistance from Allergan and Galderma. Since our Board Certified Plastic Surgeons on site at all times, you can be sure your Botox® is being administered by healthcare professionals in the safest manner possible with the highest trained and quality injectors.
With such a strong focus on quality, we guarantee your Botox® is diluted per the manufacturer's suggestion, meaning your Botox® is not watered down to save on cost. We promise you the highest quality Botox® from the highest quality injectors 100% of the time.
More About Botox
Botox® can also help relieve pain caused by TMJ, improve the appearance of a "gummy" smile, or enhance the look of the upper lip, a procedure known as  Lip Flip. We also offer a "Glass Skin" treatment to reduce the look of pores and shrink sebaceous glands in the skin.
Botox® requires a short office visit and the effect is usually noticeable within 2 weeks after treatment.
We are happy to offer Botox® in the Milwaukee area at both our Franklin, Glendale, and Waukesha offices.
Before and After Botox for Forehead Lines
Before and After Botox for Gummy Smile
How Much Does Botox® Cost?
When using Botox® injections, the price is measured in units. With Illume, Botox® treatment can be performed for only $10/unit. We also do not require a membership fee or any prepayments, so you can get started right away. The amount of units required for a procedure can vary greatly, so it's important to get an understanding of this. You can learn more by scheduling a consultation with Illume in Milwaukee and Waukesha.
How long does Botox® last?
Full dose duration of effect is 3-4 months, on average. First time users may notice that the effects don't last as long, but in some cases, increasing the number of treatments can help the effects last longer as the muscles become retrained. Everyone is unique, and their experiences with Botox® will vary.
Is Botox® FDA approved?
Yes, Botox® injection treatments were approved by the U.S. Food and Drug Administration (FDA) for cosmetic use to treat lines between the brows, crow's feet lines, and forehead lines. It has been approved for the treatment of several medical conditions since 1989. Botox® is a trade name for botulinum toxin A. Botox® is related to botulism.
What Age Should You Start Botox® ?
Botox® is a great option at any age, however, it is approved for adults 18 years and older. If you want to use Botox® as a preventative to lines and wrinkles, we recommend starting Botox® in your 20s or 30s. In your 40s and on, Botox® can be used to treat lines and wrinkles and help make you look younger.
Side Effects
Like most medspa procedures and treatments, it is best to understand the risks and side effects. Side effects from Botox® are very minor, and some of the most common are mild pain, swelling, and bruising. The best way to limit any side effects is to follow and directions you receive before and after your Botox® treatment.
Get in Touch
With board-certified plastic surgeons, two state certified surgical operating rooms, an anesthesiologist, and a team of specialized, credentialed nurses Illume provides ready availability for whatever cosmetic service or surgery you need. Let us help you Live Life Beautifully!