BBL Photofacial is a corrective phototherapy treatment that uses Broadband Light (BBL) to target signs of aging, sun damage, and other skin conditions. This process will restore your skin to its natural beauty, making it clearer, smoother, and more vibrant.
Holiday BBL HERO Special – $400 Full Face Treatment (available until January 31st, 2023).
BBL Laser in Franklin, Milwaukee, and Waukesha
About Broad Band Light Laser Treatments
BBL Photofacial treats brown pigmentation such as freckles and age spots and vascular issues such as redness, small blood vessels, and rosacea. BBL Laser also treats signs of aging, uneven skin texture, and loss of firmness.
BBL HERO is the latest BBL laser treatment, which addresses the visible signs of aging on all levels of the skin. It can also treat active acne, small vessels, and sagging skin. BBL HERO offers 3x more power and 4x the speed as the BBL Photofacial.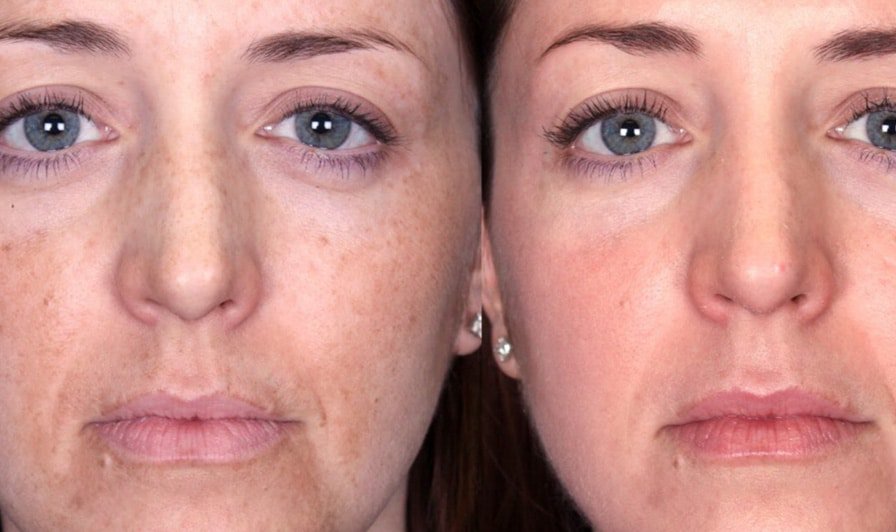 Watch Video on BBL and other Skin Rejuvenation Options
How does BBL Photofacial work?
The light energy delivered by BBL will precisely deliver laser energy to specific targets in your skin. gently heat the upper layers of your skin. The heat absorbed by the targeted areas will stimulate your skin cells to regenerate. If brown spots are the target, BBL penetrates the skin to reach the pigment. The particles of the pigment left behind will peel or slough off within 7-14 days. If redness is the target, blood vessels in the superficial layers of the skin absorb the laser energy which causes them to close. Over the course of several weeks, the body continues to absorb the destroyed vessel remnants.
What is the difference between Forever Young BBL and BBL Photofacial?
A BBL Photofacial is a corrective treatment for brown pigmentation and redness. Forever Young BBL can be done after a BBL Photofacial to maintain results and as an anti-aging preventative treatment.
What does BBL Photofacial feel like?
Patients often describe a warm popping sensation. You may experience some discomfort in more sensitive areas. A topical anesthetic is recommended.
Is there downtime associated with BBL Photofacial?
Immediately following treatment, you can expect to see redness, and it may feel like a slight sunburn in the treated area. Depending on the aggressiveness of your treatment, you may have swelling for a day or two. Pigmentation will turn darker and will slough off in 7-14 days. You may have bruising with vascular treatments.
What areas of my body can be treated?
All areas of the body can be treated. Long-term benefits of BBL are appreciated on all areas of the body
How many treatments will I need?
Your provider will personalize a treatment plan. Multiple sessions are performed every 2-6 weeks until the desired result has been achieved. Usually 3 to 4 treatments are required for full correction, although additional treatments especially for rosacea and vascular sun damage, may be required.
What aftercare do I need?
You may be sensitive to sunlight and should apply sunscreen and other skin care products as directed by your provider.
What is Forever Young BBL?
Forever Young BBL is a phototherapy treatment using noninvasive pulses of BroadBand Light (BBL) therapy to target the signs of aging and sun damage. This treatment makes skin clearer, smoother, healthier, and younger appearing. Forever Young BBL will help your skin look better over time.
What will happen during the treatment?
First, a cool gel is applied to the treatment area. Second, a chilled applicator is placed on the skin to deliver the light therapy.
What does a Forever Young BBL treatment feel like?
Patients often describe a warm popping sensation. You may experience some discomfort in more sensitive areas. A topical anesthetic is recommended.
Is there downtime associated with Forever Young BBL?
No. In most cases, you can apply makeup immediately and return to your normal routine.
How many treatments will I need?
Four treatments per year. We recommend one treatment every 3 months.
Get in Touch
With board-certified plastic surgeons, two state certified surgical operating rooms, an anesthesiologist, and a team of specialized, credentialed nurses Illume provides ready availability for whatever cosmetic service or surgery you need. Let us help you Live Life Beautifully!