"I'm so excited to finally share that I have made a decision and chosen my place for my skin removal surgery! I'm so emotional about this that I could cry. After researching, asking around and consulting multiple plastic surgeons, it became clear to me that Illume Cosmetic Surgery & Medspa is exactly where I'm supposed to be for this part of my journey. The doctors have been amazing at my consultations and I'm more than certain this surgery will be life changing for me. It's a full circle moment in my weightloss journey." – Alley
Learn more about Alley's journey and procedure below.
Alley's Initial Consultation
A personal consultation is the first step for anyone considering plastic or cosmetic surgery. During this meeting one of our Board Certified Plastic Surgeons will assess your physical and emotional health and discuss your specific goals for surgery.
"I promised I'd bring you on my whole skin removal journey so today I'm bringing you with me to my consultationI was nervous going in but also really excited. The doctors made me feel comfortable while I asked a lot of questions—and when I learned that Illume Cosmetic Surgery & MedSpa is the largest provider of cosmetic medicine in the Milwaukee area with 6 board certified plastic surgeons I felt even more comfortableI can't waitttt" – Alley
Alley's Pre-Surgical Appointment
A pre-surgery appointment is the last appointment before surgery. Steps to prep for surgery, steps of the procedure, and post-operative care are discussed.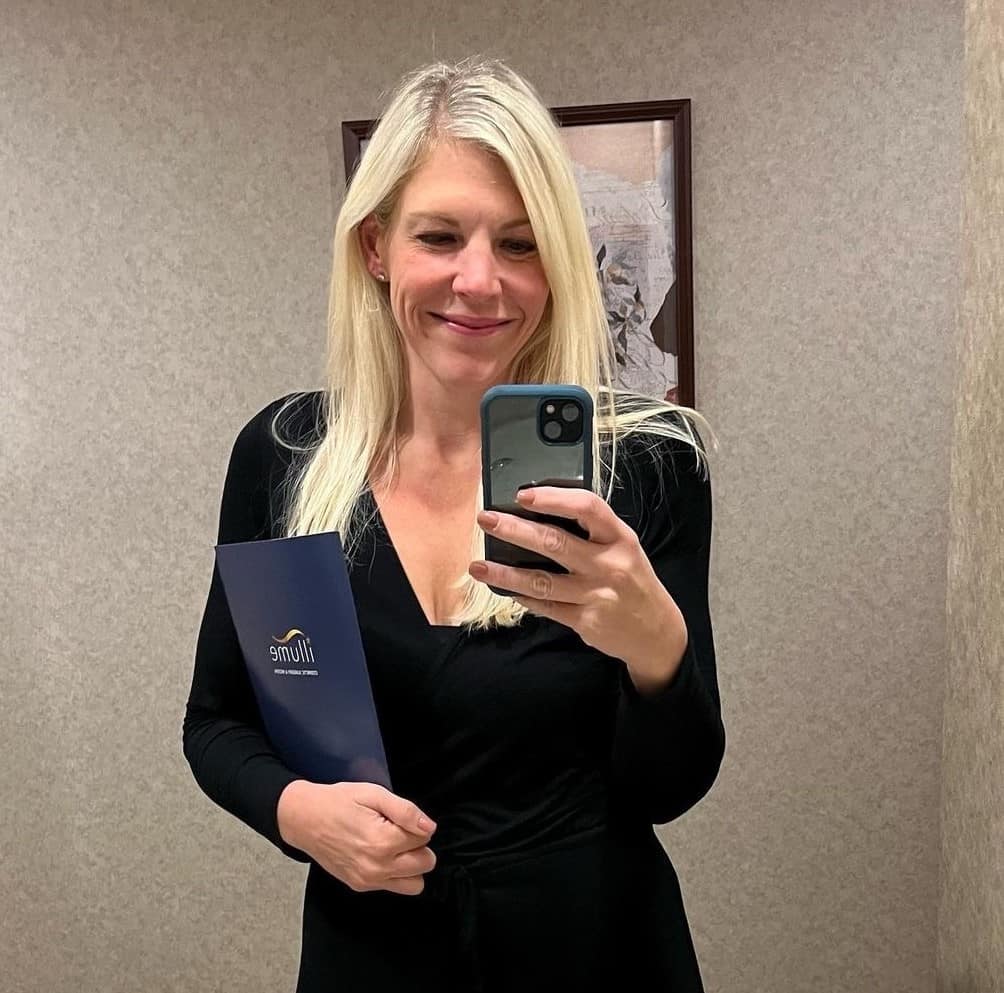 "21 days and counting!! Had my pre-surgery appointment and the next time I return to Illume Cosmetic Surgery & MedSpa it will be for my skin removal surgery I'm so freaking excited! Such a full circle moment in my weightloss and health journey. Thanks for coming along friends your support means the world" – Alley
Listen to Alley talk about her pre-surgery appointment on air on KISS 103.7 Riggs & Alley below.
Alley's Recovery
Alley looking great at her post-op appointment, 1 week after surgery.
"One week later and recovery is going great. I drove for the first time today and am moving around quite a bit! I still need a nap after I do a lot of activity but everyday I get more and more energy. Someone asked me if I have any regrets—absolutely not. Having zero regrets! Glad I did it And very grateful for all the friends who have let me stay with them, helped me get around, brought me food and checked in on me" – Alley
Alley's Before & Afters
Alley's side-by-side before and after pictures!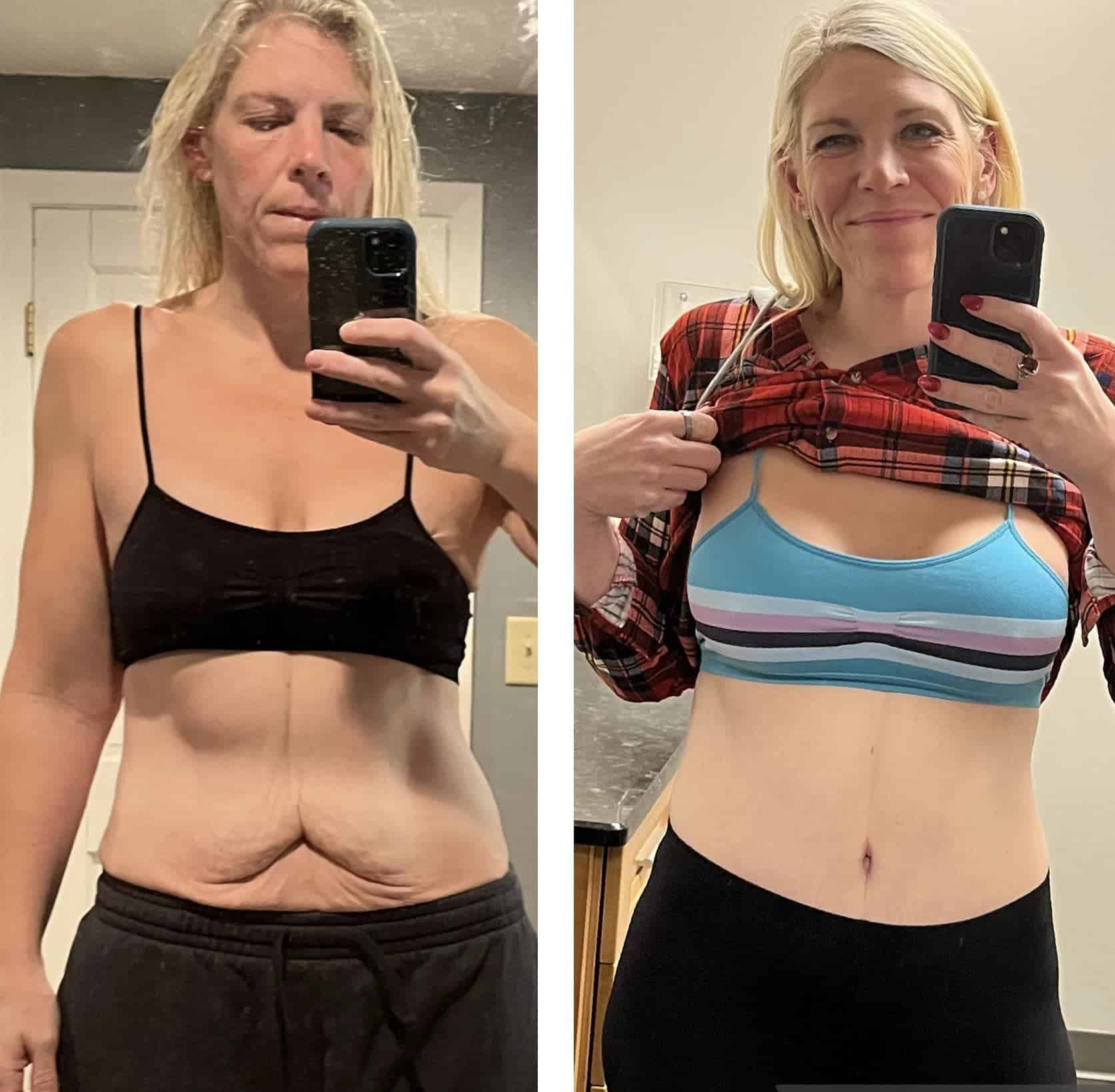 The morning of surgery —> 9 weeks post surgery. Today was my 2 month appt with my doctor and if went greatNot only did he say my recovery progress was ahead of the curve, he said I now have zero lifting restrictions and I can work out againwhich makes me very happy. I will return to Illume Cosmetic Surgery & MedSpa to see him again in early March and I'll keep wearing my silicon strips 6-8 hours a day over my scars(they help with healing and helping the scars fade)but overall I still cannot believe I actually did this—it's like a dreambut I'm THRILLED to be on the other side now. My stomach still gets a little swollen from time to time but he said that should subside when I hit 6 months, so I'm excited for that milestone. I'll continue to keep you updated but so far so good! This has been a life changing year for me and I'm excited to start 2023 with an even more positive outlook. As always you guys have been the best and so supportive and I have loved taking you on this journey with meIt's been a wild ride!– Alley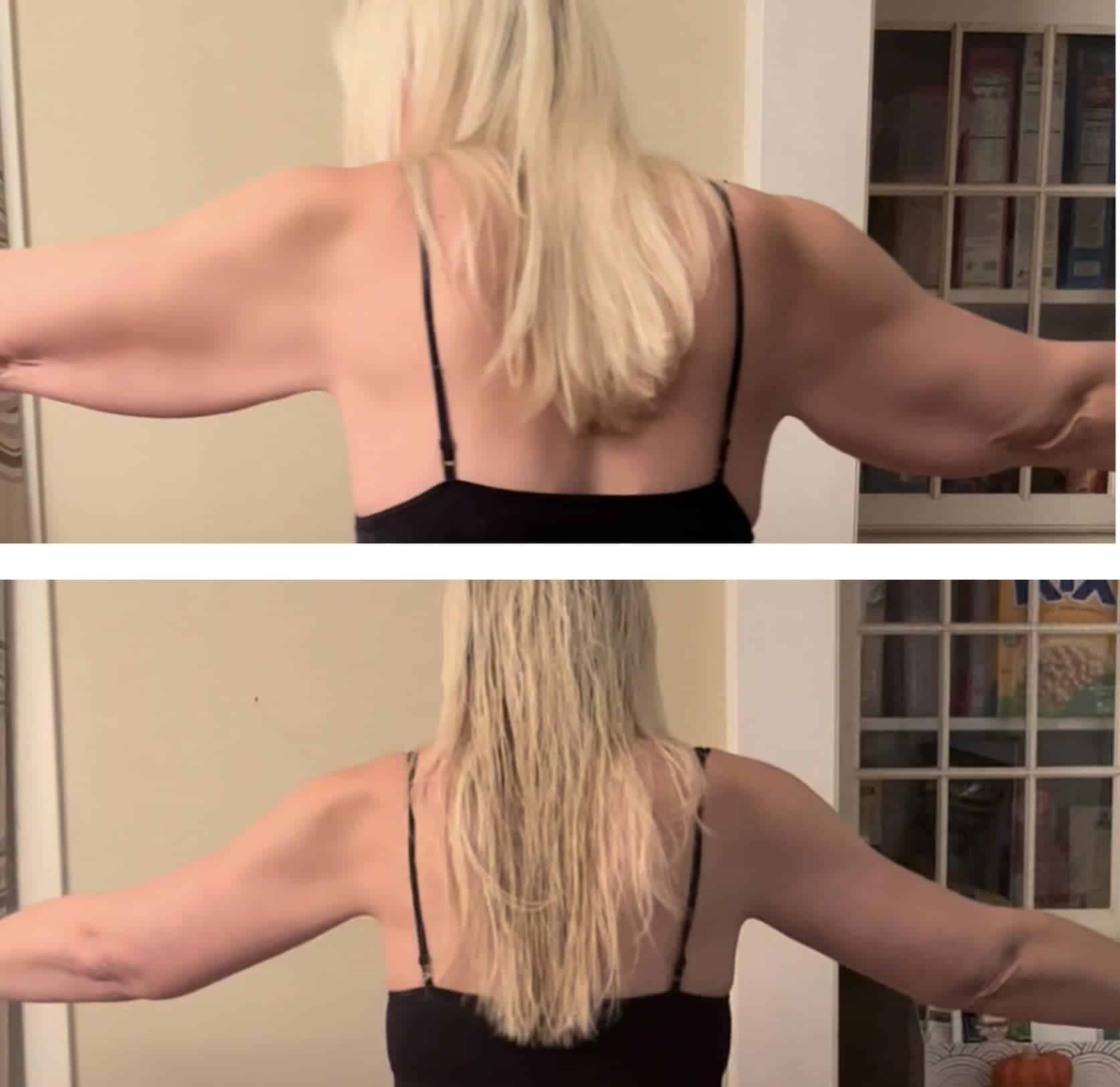 7 weeks out from surgery and finally ready to start showing you my armsI knew they needed some help but looking at the before and after really puts it in perspective for me. I see my dr again next week at Illume Cosmetic Surgery & MedSpa for my 8 week check up and I'm excited to get cleared to exercise again so I can really put these things to use because its not about being "skinny" for me, it's about being STRONG I'll update you next week and as always thanks for all your support – Alley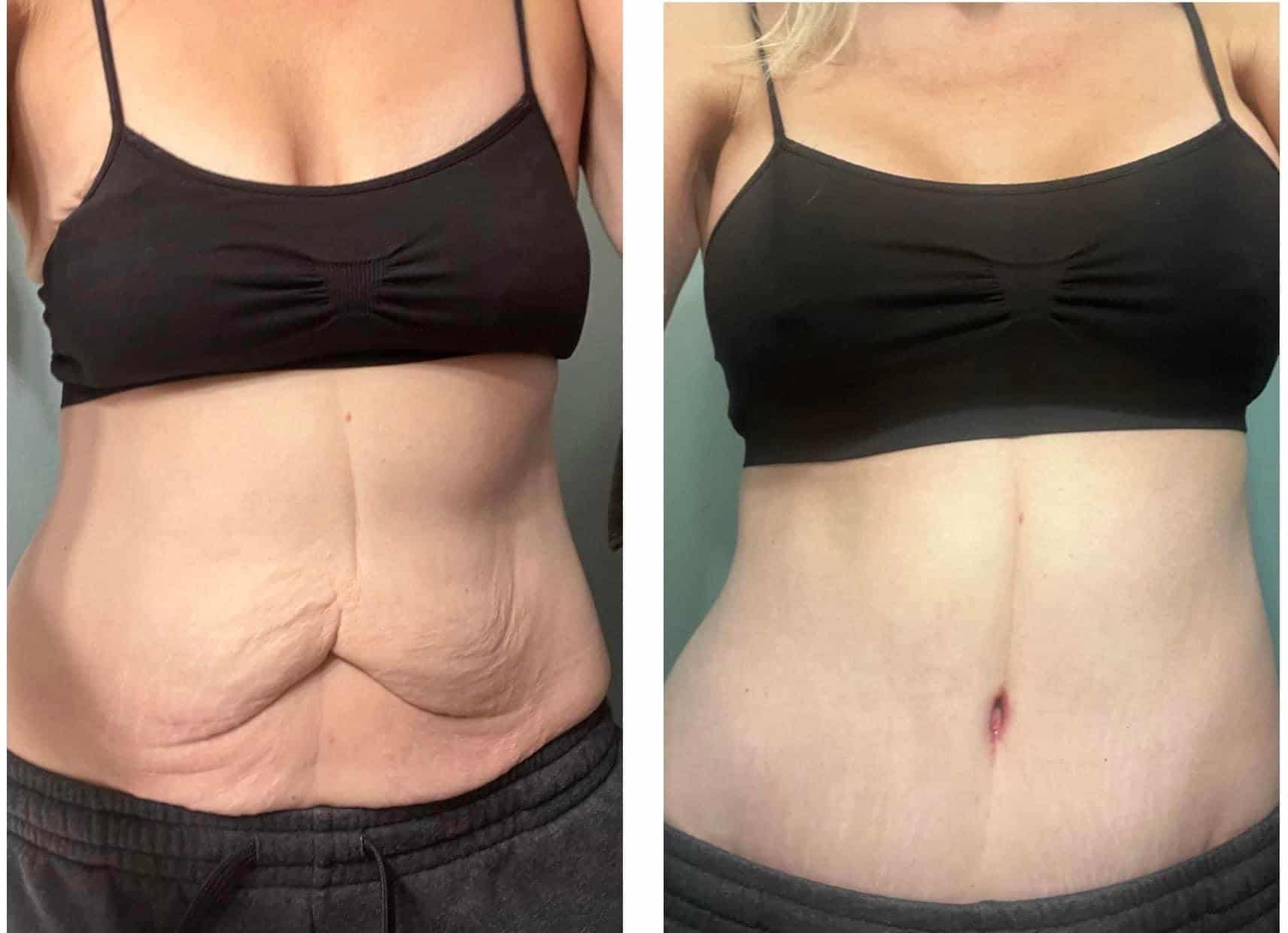 Yesterday marked 4 weeks since I had surgery and I'm finally feeling comfortable enough to share some before and after pics with you—I really have appreciated your patience on this—and honestly this was the first time I had put the before and after pics next to each other and now I'm glad I did—because it's a good reminder of why I did what I did and how happy I am with my results and how far I've comeIt's a long process and as you can see even my belly button is still healing. I still have swelling on and off and I'm expecting that to continue for a bit longer but overall it has been SO worth it. Can't wait to show you my arms next. They are still healing and I wanna get a little farther in the healing process before I feel comfortable sharing those. This has been a wild journey that I never saw coming but your support has been amazing and helped me continue to be as transparent as possible. So please know I appreciate all of you! And last but not least thanks again to Illume Cosmetic Surgery & MedSpa for guiding me on this part of my journey! – Alley
Q: What do you know now about this process that you wish you would have been told before going into it?

AF: I think that a lot of people don't know what to think when you're having plastic or cosmetic surgery. It sounds really intimidating for average people, especially those of us living in the Midwest, but I think what I learned coming out of this is that I still feel like myself. I don't feel like a different person or that I changed anything. My surgeries were an upgrade and something that changed my life and self-esteem for the absolute best. I feel like I earned this and that I put in the work to make this positive life change possible.

I think that anybody who is thinking about or planning on having this surgery will have zero regrets. I have never once in this whole process had any regrets or thought, "Oh no! I've had a breast augmentation," or "Oh no I've had skin removal". It's been the opposite. It's been a celebration of myself and who I have become through hard work and dedication to myself. It is just a gamechanger overall for how you feel.
Alley's Botox Injections
Before & After Botox Injections, prior to surgery.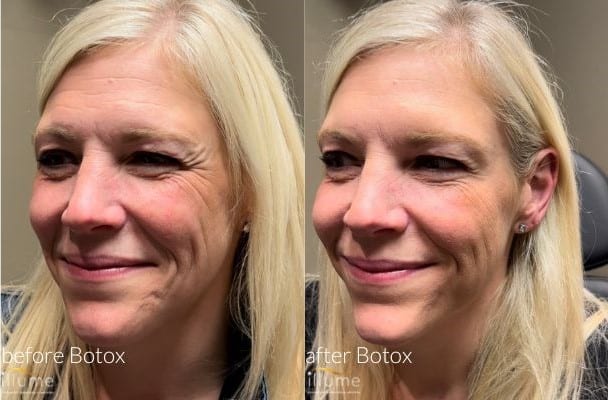 To make procedures accessible to all our patients we provide Financing options.
Call (414) 439-3000 for a cosmetic consultation.
Get in Touch
With board-certified plastic surgeons, two state certified surgical operating rooms, an anesthesiologist, and a team of specialized, credentialed nurses Illume provides ready availability for whatever cosmetic service or surgery you need. Let us help you Live Life Beautifully!