Spa Services / Weight Loss Management
For many women, breast size is an important part of feeling healthy, attractive, and confident. You can work hard to get fit and slim down, but if you aren't born with the breasts you love, surgery may be your best option. Breast augmentation in Milwaukee & Waukesha is the choice of many women who want to be their most confident and lead their best life.
Wellness is the state of living a healthy lifestyle. It is an active process of becoming aware of and making choices toward a healthy and fulfilling life.
Wellness is not a separate entity- it's an aggregate of our mental, emotional, physical, and spiritual health. It is not a passive or static state but rather an "active pursuit" that is associated with intentions, choices and actions as we work toward an optimal state of health and wellbeing. To achieve wellness we must adopt attitudes and lifestyles that prevent disease, improve health, and enhance the quality of life and sense of wellbeing.
In other words, wellness is proactive, preventive and driven by self-responsibility.
To make this procedure accessible to all our patients we provide Financing options.
Call (414) 439-3000 for a cosmetic consultation.
Physician Supervised Weight Loss Program
Our goal is to make you look and feel great! We are here to help you reach your goal weight and help you improve how you feel about yourself!
Weight loss is a personal issue; everyone has different goals for weight loss and percent of body fat they want to achieve. Remember you are losing weight for you and no one else!
Soon you will be on your way to making small lifestyle changes that will provide big rewards in return. You will notice changes will occur quickly if you commit to the program and adhere to the guidelines established.
Remember Dr. Blake is working in conjunction with your clinical director to help you celebrate the continued success of your weight loss.
About the Program:
At your initial consultation you will meet with our weight loss specialist to define your goals. Together, we will formulate a written plan outlining how these goals will be achieved. Your medical health is our foremost concern.
WEIGHT LOSS
HCG
28 or 42 Day Weight Loss Program. This is a restrictive diet and calorie program (low carb and low fat) that along with subcutaneous injection of the medication. Patients can lose 1/2 to l lb a day. Within this diet, there is no hunger, resetting the metabolism. With our transition and long term plan you will continue to lose or maintain weight loss!
APPETITE SUPPRESSANT
FDA approved medication that with a personalized weight loss plan patients can lose up to 4-5 lbs a week. Weekly or every other week follow up appointments to help keep accountability.
NUTRITION AND HEALTH COACHING
Personalized and customized plans that are tailored to the patient. Plans include meal plans, recipes, supplements, and more. Individualized programs can have up to 3 lbs a week.
WEIGHT LOSS VITAMIN INJECTIONS
Weight loss injections can include Vitamin B12, Chromium picolinate, and B-complex. Weekly to twice a week recommended.
WELLNESS
10 DAY METABOLIC RE-START
This 10 day reset is with 2 supplements and a protein shake along with whole and healthy eating can help the body not only detox but support the liver with detoxification.
WELLNESS VITAMIN INJECTIONS
These injections include glutathione, Vitamin C, and Vitamin D. These help with immunity, detoxification, and heart health. Weekly to twice a week recommended.
Complete blood work, including cholesterol levels, liver enzymes, kidney function & electrolytes. (Pregnancy test for females)
EKG for candidates of prescription appetite suppressants.
Blood pressure /Pulse
Exercise Recommendations
Nutritional Analysis
Body fat percentage/Body Mass Index on our Tanita scale
Prescription for Appetite Suppressant ( for healthy candidates) /or Natural Appetite, All dispensed from our Clinic.
Multi-Vitamins
Calcium Pyruvate ( fat burner)
Chromium Pyruvate ( fat burner, reduces sugar cravings)
Weekly Injection of Vitamin B-12, B-6, Amino Acids
Free 1st one week Follow up visit that includes a FREE B-12 shot/ weight and vitals
Injection
Vitals ( blood pressure/ pulse)
Weight/ Body fat Percentage/ Body mass Index
Medical support and Weight loss coaching/ encouragement.
Prescription/Supplement refills.
During each visit with your Weight Loss specialist we will monitor progress with you. She will go over your diet, exercise regime and any other concerns you may have.
Amanda Picord, Program Director and Registered Nurse of Illume Wellness
Amanda Picord has been a registered nurse for over 10 years. She graduated with her associated degree in 2010 and her BSN in 2014.
Amanda worked for many years in the hospital setting including the cardiovascular intensive care unit and was an organ donation and transplant coordinator. She has spent the last three years working in weight loss and wellness. She is a certified personal trainer as well as group exercise instructor. Amanda also has certifications in health coaching and nutrition through Precision Nutrition.
Amanda also has a personal passion for weight loss and wellness. In December 2016, at age 30, Amanda's weight had ballooned to 300 pounds. She was also diagnosed with high blood pressure, borderline diabetes, and sleep apnea. Through changes in lifestyle that include diet, exercise, and mindfulness over the course of a year and a half she lost over 150 pounds and has maintained her weight loss for the past three years.
With Amanda's professional experience as well as personal journey, she comes to Illume Wellness with tools and resources to help those who are struggling with their weight from that extra 10 pounds to 100 pounds. Amanda's philosophy is to create custom plans in weight loss and wellness that are realistic for each person. Her focus in wellness include medical weight loss programs, accountability, fitness, and mindfulness.
"I know what it's like to feel really bad about yourself, when you feel at your lowest. Physically, mentally, spiritually. I know how hard it is to walk up a flight of stairs and try not to be out of breath. Now, after losing 150 lbs, I know what it's like to feel really good about myself and if I can help someone feel really good about themselves, well that's what wellness is all about."-Amanda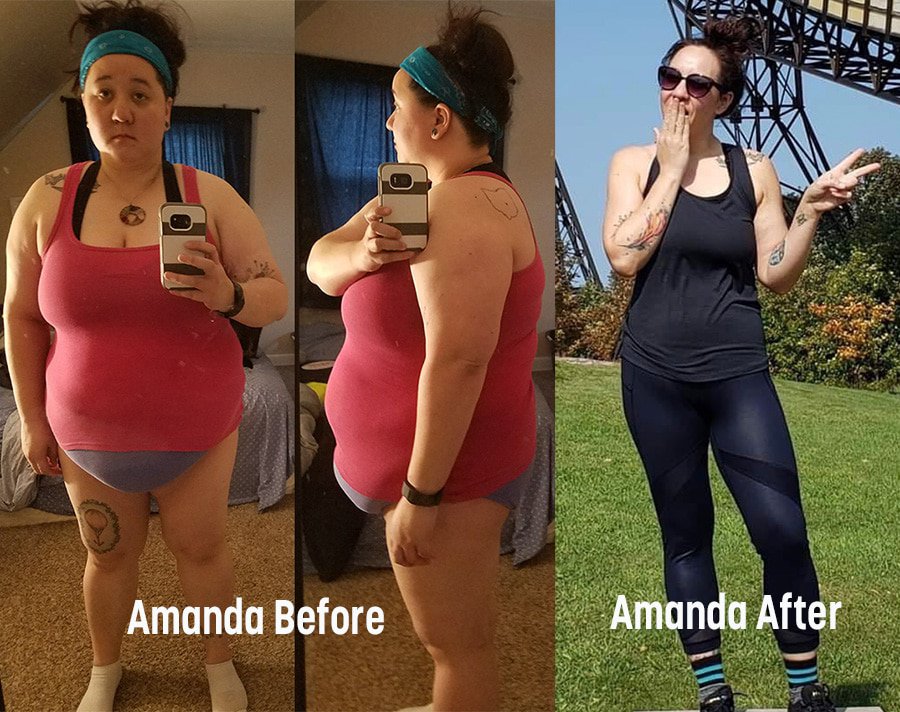 Testimonials
"I cannot begin to explain how extremely pleased I am with my overall results using the Contour Weight Loss program. When on other weight loss programs, I never felt comfortable with their approach nor have I achieved my maximum potential and always felt unsuccessful in my efforts."
J.Z.
"I cannot say enough about Dr Blake and his program. It has changed my life, and I will be happy to talk to anyone about my experience. The Contour Weight Loss Program is a lifestyle change and an educational program, and I will never be overweight again."
F.H.
M I C B 1 2 ( M E T H Y L C O B A L A M I N )
FIGHTS FATIGUE, BOOST ENERGY, ENHANCES METABOLISM. APPETITE REDUCTION INCREASES FAT BURNING. HELPS PROMOTE LEAN MUSCLE
FOR OPTIMAL BENEFITS: weekly injection
B – C O M P L E X
PROMOTES BRAIN FUNCTION, INCREASES MOOD, IMPROVES ENERGY, SUPPORTS IMMUNE SYSTEM, PROMOTES HAIR GROWTH, HELPS CONVERT SUGAR INTO ENERGY.
FOR OPTIMAL BENEFITS: weekly injection
V I T A M I N C
BOOSTS IMMUNE SYSTEM, PR0MOTES WOUND HEALING AND HELPS FIGHT INFECTION. IMPROVES AND BRIGHTENS SKIN, AND ANTIXIDANT BOOST, IMPROVES BLOOD SUGAR CONTROL
FOR OPTIMAL BENEFITS: Weekly injection
V I T A M I N D
MAINTAIN A HEALTHY HEART, BOOST FOR IMMUNITY, PROMOTES ABSORPTION OF CALCIUM AND STREGHTEN BONES, HELPS IMPROVE MOOD, LOWERS BLOOD PRESSURE, PROTECTS AGAINST ASTHMA
FOR OPTIMAL BENEFITS: Twice a month
G L U T A T H I O N E
MOTHER OF ALL ANTIOXIDANTS, ANTI-AGING, SKIN BRIGHTENING, LIVER DETOXIFIER, REMOVAL OF TOXINS, HELPS CONTORL INFLAMMATION, HELPS FIGHT FREE RADICALS.
FOR OPTIMAL BENEFITS: Twice a week to weekly for first month. Then weekly for maintenance
What type of weight loss and wellness programs do you offer?
We offer a wide variety of weight loss and wellness programs to fit our client's needs. No two people are alike, and all generic programs do not work for everyone. Our programs can be tailored to you and your specific needs and lifestyle. We offer programs from rapid weight loss, like HCG and a very low-calorie diet to programs that include FDA approved medications, supplement support, detoxification, health coaching and accountability programs. We have short term jumpstarts (10 days) to long term programs (6 months). We recommend you schedule a FREE consultation to see what program would work bets for you and your lifestyle.
Do you only do medical weight loss at your clinic?
At Illume Wellness, we are not just looking to help those who need to lose weight but those who want to optimize their health and wellness. We have taken a turn from just looking at a number on the scale. We are looking to help reduce body fat which will help decrease percent body fat. Optimize lab levels like cholesterol panels, organ function, and blood sugar control and regulation. Also, we want to look at "how are you feeling". Doing baseline symptom survey assessments and throughout the program will help us focus on not just weight loss but our overall health.
Do you take Insurance?
We do take Care Credit along with all other major credit cards. Unfortunately, we do not take insurance for weight loss currently. Some insurance companies may reimburse or allow weight loss on your HSA or Flex account. Contact your insurance provider directly.
How much do your programs cost?
Everyone's program is different so cost may vary. Programs start from $149 and depending on how long and the program can go upwards from there.
Do I have to go to a pharmacy to pick up medications if they are on my program?
No need to go to a pharmacy. We prescribe and can dispense on-site. In the upcoming future we will also be bringing out our own Illume Wellness Supplement Line *stay tuned*!
How much weight can I expect to lose?
You can expect to lose 2 to 5 pounds a week depending on the program option you choose. Total weight-loss depends on length of program, compliance, and adherence to recommendations from your team. Illume's team collaborates with you to choose a program that fits your goals and life. Everyone is different, but in most cases, you can expect a steady weight loss of at least a two pounds a week. Many of our patients safely lose 10 pounds a month or even more while following our programs.
How long will results last?
Ultimately you decide how long your results will last. Our goal though is to help prepare you in your program to make healthy decision though your life, so you don't have to do an aggressive or restrictive program again.
Our programs are designed to give you a jump start on a healthy lifestyle. We do offer long term programs which help give you a jump start along with helping support you while you transition to maintaining. We have learned that maintain can be some of the most challenging parts of weight loss. We have found thought, people who follow our maintaining guidelines of our "Eat More-80%, Eat Some-15%, Eat A little 5%" have long lasting results.
What is the initial consultation like?
Once you schedule your appointment for your free consultation, a member of the Wellness Team will touch base with you (either via email or phone, prior to your consultation) and a short questionnaire will be sent to you through our secure cloud-based portal. This helps our team get to know a little more about you prior to you coming in. Once at your appointment, you'll meet with our team and discuss your goals and go over the programs/services we offer and come up with a plan that suites your goals and lifestyle.
How often do I come What is a typical visit like?
Your first visit to start a program, will include a full assessment, body composition, measurements, before picture, and lab work (depending on when your most recent labs were), along with some programs an EKG. You will learn how the program works, going over details of the program and expectations from you and from your health coach, as well as a timeline of when you should follow up. You will also get your program guide and contents of program, along with a Wellness Injection
Follow up appointments will be either weekly or every other week depending on your program. If you cannot make an appointment in person, we do offer virtual appointments as well. Follow up appointments will include weigh in with body composition, wellness injection, discussing the program, goals from week prior and setting new goals for upcoming week, discussing challenges, as well other support you may need (supplement, recipes, etc…).
What kind of support do I have at Illume Wellness?
Weekly private, on-site one on one visits with our Health Coaches and check-ins provide education and support for your transition to a sustainable healthy lifestyle. Along with a virtual platform/application that is all in one, where you can message the team directly, capability of tracking food and metrics, along with guidance through virtual programs. An additional resource is our Illume Wellness Private Facebook Group, where our Wellness Team posts education on nutrition, fitness, and support daily, along with answering general questions from the members.
What Are the Benefits of Follow Up Visits?
Weekly or every other week visits (in-person or virtual) are extremely effective for patients during the weight loss and weight maintenance phases. It provides regular, on-going support, motivation, and accountability.
If you are having a great week, we discuss supporting topics like supplements, gut health, fitness, mindfulness. Great weeks are high fives and on track! These are the best times to start working on other healthy habits, not only for weight loss but for maintaining.
If you are having a bad week, we want to still follow up that week, in fact these are the most important follow up visits. Why? Because, when we feel like we "fail" or have "fallen off track" we do not want to come in and get "yelled at" by our team. We never make someone feel bad for having a bad week. As a team, patient, and coach, we discuss the week and trying to find healthier ways to cope with the past week and learning from what happened to make changes so the next time that issue or challenge arises we are better prepared.
Why Illume?
If you're looking for the health benefits of losing weight to look and feel your best along with learning healthy and long-term habits for the future, that is Illume Wellness. We pride ourselves of not only helping our patients lose weight but keeping it off for the long term. We believe in getting a jumpstart with maybe medications, a detox or cleanse but ultimately helping you build healthy habits for your long term. Our programs are designed to lead you to your healthy lifestyle while you hit your wellness and weight loss goals. Science has shown us, that many obesity-related conditions (high cholesterol, high blood pressure, diabetes, insulin resistance, obstructive sleep apnea) improve with a modest weight loss of 5 to 7 percent.
What else should I know about Illume?
We understand that some of our patients come into the clinic and are looking for a "mommy makeover" or a "tummy tuck". Weight loss can help optimize those results and we offer different incentives if you are planning to do weight loss and cosmetic surgery (that coincides with weight loss) with us at Illume. Ask our Wellness team more about those incentives at your consultation!
How do I start?
Call either one of our clinics at (414) 439-3000.
Get in Touch
With board-certified plastic surgeons, two state certified surgical operating rooms, an anesthesiologist, and a team of specialized, credentialed nurses Illume provides ready availability for whatever cosmetic service or surgery you need. Let us help you Live Life Beautifully!