When you are someone who enjoys the sunshine and being outside, your skincare routine should be important. We all know sun exposure is one of the main reasons for different skin imperfections such as wrinkles, lines, aging, and more. There are plenty of creams and moisturizers out there, but there may be another option that can quickly provide the results you're looking for. HydraFacials are more popular than ever and could be the answer to help fight off the signs of sun damage and aging. More and more people are turning to HydraFacials to look and feel more rejuvenated, reduce lines and wrinkles, and to feel better about their skin care routine. But what are they? We want to run you though the procedure and help you understand the benefits.
What is a HydraFacial?
The HydraFacial treatment is a skin resurfacing procedure that extracts impurities and removes dead skin cells. What makes the HydraFacial so special is that it helps uncover a new layer of skin while also providing the new skin with cleansing, hydrating, and moisturizing serums. This ability is what separates the HydraFacial from all other skin resurfacing procedures. HydraFacials also provide immediate results, so you will be left feel refreshed as soon as your procedure is through. The HydraFacials at Illume MedSpa in our Milwaukee and Waukesha offices have a 3-step process:
• Cleanse & Peel
Resurfacing gently works on exfoliating the skin to uncover the new layer.
• Extract & Hydrate
Once the new skin has been uncovered, we use a gentle suction to remove dirt and debris from the pores. We also nourish the skin with moisturizer to rehydrate.
• Fuse & Protect
Finally, to get that "glowing" feeling, we provide the skin's surface with peptides and antioxidants.
Benefits of HydraFacials
There are a few reasons HydraFacials have become so popular within the Med Spa world. We are seeing a lot of people book appointments ahead of weddings, photo shoots, or other big events! When you look at the benefits of HydraFacials, it's easy to understand why.
• Youthful, Radiant Skin
Like we've mentioned, HydraFacials remove dead skin cells to uncover a new layer of skin while working to hydrate and refresh your look. You'll come out with smoother skin and feeling better than ever! With results lasting around 5-7 days, HydraFacials are perfect before events where you want to look your best.
• Customizable
Each HydraFacial procedure can be unique and altered to fit your needs. Damaged skin, acne scars, sun damage, and brown spots are all issues that a HydraFacial can help with. You will work with one of our experts who can find the right treatment process for you.
• See Immediate Results
You will begin to see results as soon as your procedure is over. Our HydraFacials take less than an hour to complete, and the results of new, refreshed skin will be immediately noticeable. Unlike other cosmetic procedures such as laser resurfacing, HydraFacials aren't supposed to cause redness, either.
• Can be used on all skin types
Sensitive skin? Not a problem. This procedure is meant to treat all skin types, so even the most sensitive skins can tolerate the treatment. There is also no pain involved in the HydraFacial treatment, with some people sayings it feels like "a cool paintbrush moving over the face". You can contact us for a free skin evaluation and sensitivity test.
• Reduce Fine Lines and Wrinkles
Even though you will see results after the first procedure, you can take it one step further. By scheduling a HydraFacial at least once a month, the treatment may begin to reduce your fine lines, wrinkles, and oily skin.
• No Downtime
Once the procedure is finished, you can continue your normal routine with no restrictions. Feel free to going back to your normal skin care routine and using your regular moisturizers. Even wearing makeup is okay!
HydraFacial vs. Microdermabrasion
If you have been to a MedSpa before, you may be seeing some similarities between a HydraFacial and Microdermabrasion. But the biggest difference between the two procedures is the type of exfoliation used, and microdermabrasion doesn't use serums. A HydraFacial is really just a more advanced facial treatment procedure.
Treatment Cost
We offer a Signature HydraFacial starting at $215. As we mentioned, the procedure can be customized to fit your needs, so make sure you talk with our aestheticians at Illume will recommend the best treatment options for you!
HydraFacial Before and After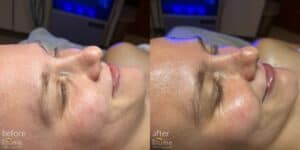 We understand that it can be helpful to see results to better understand the process and really see what you are getting. Above are photos from REAL patients from our Waukesha and Milwaukee Illume offices. If you are interested in a HydraFacial and want to get in touch, do not hesitate! We are ready to help rejuvenate and refresh for any occasion, and offer complimentary skin consultations. Request a consult today!