In the world of skincare and aesthetic treatments, innovation often paves the way for transformation. Among the recent transformation in skin rejuvenation, the BBL Hero Laser stands out as a true game-changer. With the power to address a variety of common skin issues, this treatment has captured the attention of people seeking lasting improvements in their skin's texture, tone, and overall appearance.  
What is BBL Hero Laser?
BBL (Broadband Light) HERO (High Energy Rapid Output) is revolutionary technology that upgrades traditional BBL, delivering more power to create a more effective laser skin resurfacing treatment than traditional BBL. BBL HERO addresses the visible signs of aging on all levels of the skin. 
How does BBL Hero Laser Work?
BBL Hero works through BBL, which is a form of intense pulsed light (IPL) treatment. BBL delivers precise light energy to selected skin areas, gently heating them. This heat prompts skin cell regeneration. For brown spots, BBL reaches the pigment, which later flakes off in 7-14 days. When targeting redness, BBL's energy closes superficial blood vessels, with the body gradually absorbing the remnants over a few weeks. 
The BBL Hero Laser Process and downtime
Our aestheticians will recommend the number of treatments needed to achieve your desired results. Multiple sessions are performed every 2-6 weeks until the desired result has been achieved. Usually, 3 to 4 treatments are required for full correction, although additional treatments especially for rosacea and vascular sun damage may be required. 
Patients often liken the sensation to warmth with occasional mild discomfort in sensitive areas. Our treatments are suitable for all body areas. Post-treatment, you can anticipate redness and sunburn-like sensations. Swelling, if any, usually lasts 1-2 days, and pigmentation darkens before shedding in 7-14 days. Vascular treatments may result in bruising. For post procedure care, we provide topical anesthetics and numbing cream to minimize comfort, and our aestheticians will offer tailored aftercare guidance to ensure your comfort and recovery.  
Benefits of BBL Hero Laser
Versatility 

BBL Hero can address a broad spectrum of skin concerns, pigmentation irregularities, age spots, redness, and signs of aging.  

 
Customizable

 

BBL Hero treatments can be tailored to address each patient's unique skincare concerns and goals, ensuring that they get the results they desire.

 
More Effective than BBL Photofacial

BBL HERO offers 3x more power and 4x the speed than the BBL Photofacial.

 
Areas of skin 

BBL HERO is designed to treat large portions of the skin at one time.

 
Is BBL Hero Laser Right For Me?
Most everyone can have BBL. In fact, it's one of the only aesthetic treatments offered that is able to fix a variety of skin conditions whether they are epidermal (texture) or dermal (pigment). 
Ideal candidates for BBL HERO are those that have unwanted brown or red spots or pigmentation on the surface of their skin, often caused by years of sun damage. 
BBL HERO is the best option for patients who have plateaued with the results of traditional BBL and for patients who desire to reverse signs of premature aging and sun damage on their chest, arms, legs, and back.  
Before and After BBL Hero Laser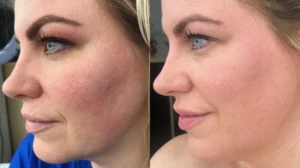 We understand the importance of visualizing the results to gain a deeper understanding of the process and its outcomes. If you're intrigued by the potential of BBL Hero Laser and wish to make contact, don't hesitate! Our team is prepared to assist you in rejuvenating and revitalizing your skin for any occasion. Plus, we're pleased to provide complimentary skin consultations. Reach out and schedule your consultation today