Trying to get rid of stubborn fat? Trying to shape and contour your body? There are many procedures out there that are available, CoolSculpting and Liposuction are two popular ones. There are differences and similarities between the two, but let's find out which one is right for you!  
What Is CoolSculpting? 
CoolSculpting is an FDA-approved, non-surgical, and non-invasive cosmetic treatment that reduces stubborn fat in certain areas of the body. At Illume, we offer CoolSculpting by Zeltiq, which will freeze fat cells in your body. The treatment targets areas of the body that are fat-resistant, such as the abdomen, thighs, and love handles.  
What is Liposuction? 
Liposuction is an FDA-approved, surgical procedure to remove unwanted fat from targeted areas. At Illume, we offer Microaire's Power Assisted Liposuction, known as the best and most effective liposuction available. The treatment allows use on the abdomen, waist, cheeks, back, calves, thighs, upper arms, and inner knee.  
How do they work?
CoolSculpting uses a device that is placed on a specific area that uses controlled cooling techniques to freeze and destroy fat cells. When fat cells are exposed to controlled cooling for a certain amount of time, the fat cells die and the amount of fat you have is reduced for good.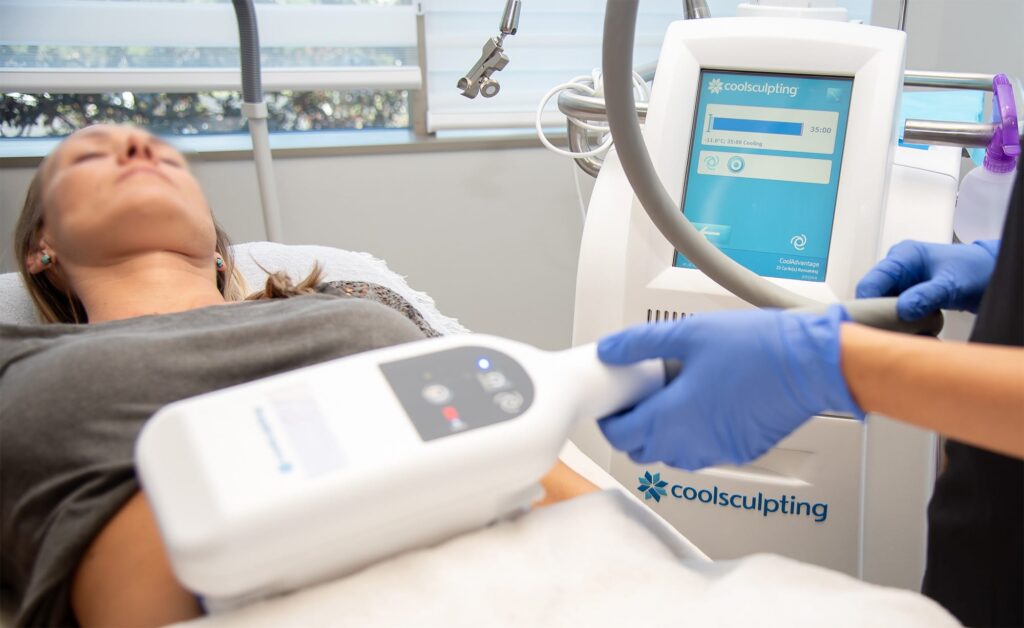 Liposuction reshapes specific areas where there are localized fat deposits and loose skin that are out of proportion with the rest of the body. This procedure uses powered vibrations to loosen stubborn fat cells and is a gentler, more comfortable method of fat removal. 
CoolSculpting vs. Liposuction Procedure
The procedure is usually about one hour long. Everyone is different so the number of procedures it takes to reach a person's goal varies, but we usually see one to three sessions for each area of treatment. The full effects of the procedure may take up to several weeks to fully appear. The treatment is permanent since the fat cells are removed from the body. Some patients have reported losing up to 2 inches in a single treatment, with no recovery time needed. 
Liposuction usually takes about an hour, sometimes longer, if there are multiple areas to be treated. You are then cared for in the recovery area for 1-2 hours before you are sent home. Your new look will be seen shortly after the surgery, but the full effects will be most apparent after 6 months, once the swelling has gone down. Maintaining exercise and eating a healthy diet will help you keep your new shape. 
Side Effects
Some side effects that may be present after the procedure can include redness, itchiness, muscle spasms or cramps. You can help reduce your risk of complications by closely following our instructions before and after the procedure. 
The side effects of Liposuction may be more noticeable since it is a surgery. You should be returning to work within 3-5 days following your surgery. Stitches are usually removed within 10 days. Strenuous activity should be avoided for about three weeks as your body continues to heal. Although most of the bruising and swelling usually disappears within six weeks, some swelling may remain for six months or more. Recovery can vary slightly for each patient. You will be given detailed post-care and recovery instructions by one of our surgeons following the liposuction procedure. 
Other Options
If Coolsculpting or Liposuction does not seem the best for you, Illume offers multiple weight loss programs, including Semaglutide Weight Loss. Semaglutide is an FDA-approved weekly injection, over a 12-week period, but can go as long as you want. It is a non-habit forming, clinically proven effective peptide for long-term results. Semaglutide will diminish your appetite and food cravings while helping to stabilize your blood sugar. It is perfect for anyone who is looking to lose at least 25 pounds and does not require a change in lifestyle. It is available at the Milwaukee and Waukesha locations.  
Like any type of cosmetic procedure, there are things you will want to look out for. Before deciding on CoolSculpting or Liposuction, you will want to work with one of our licensed professionals to choose the best procedure to give you your desired results and to make sure you understand the risks with each option. We want to make sure that you have a positive, comfortable experience with anything we do. Schedule a consultation for CoolSculpting or Liposuction today.