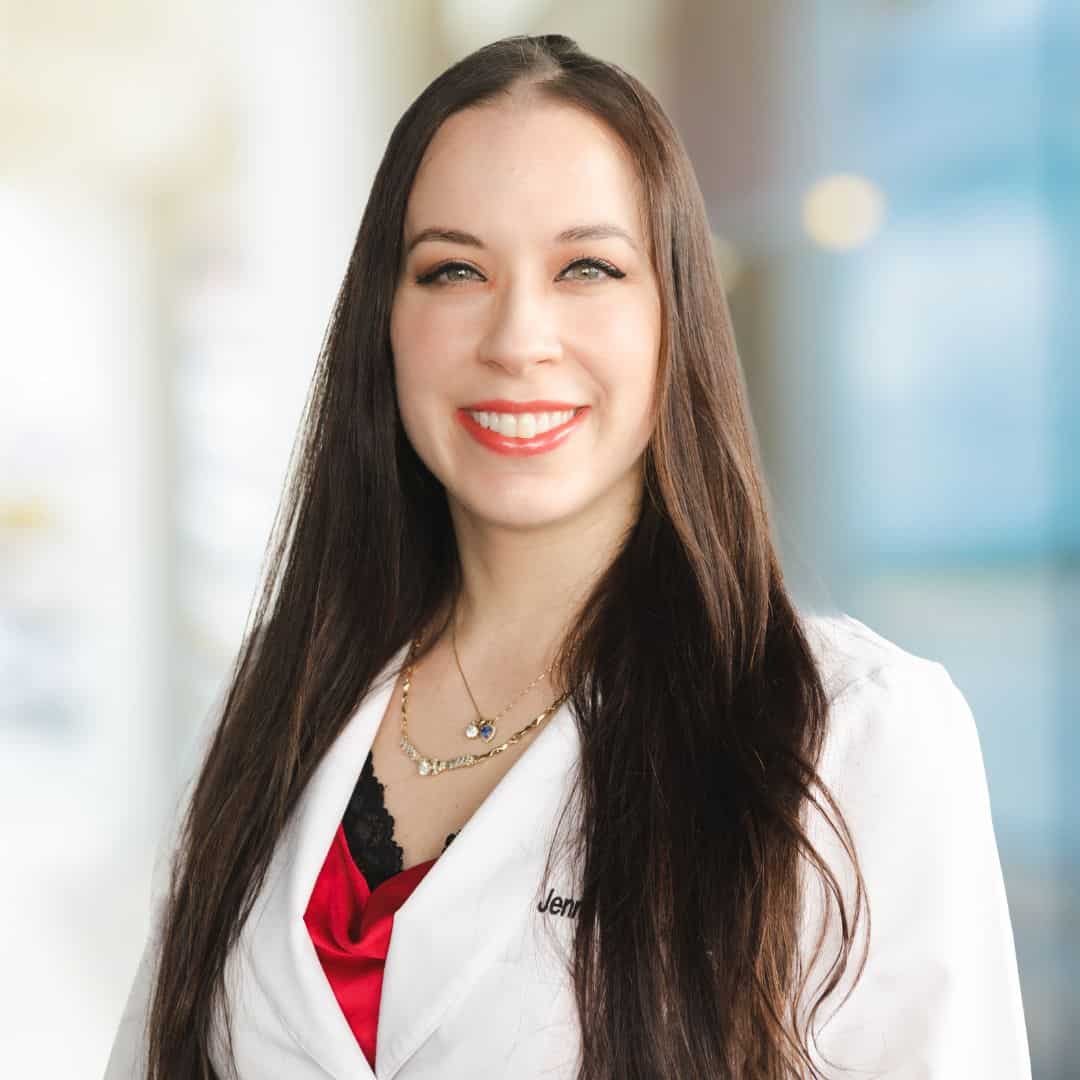 Dr. Jenna Cusic is thrilled to return to the Midwest and her prior home of Milwaukee, joining Illume where she practices plastic, reconstructive, and aesthetic surgery of the face, body, breast, and hand.
Dr. Cusic was raised in North Dakota and completed her undergraduate education at the University of North Dakota, earning the distinction of Summa Cum Laude. She graduated medical school from the University of North Dakota School of Medicine as the youngest in her class, receiving a multitude of honors, scholarships, and awards for scholastic achievement and research. Dr. Cusic then completed a six-year integrated plastic surgery residency training program at the Medical College of Wisconsin. Subsequently, her surgical training was further elevated through two surgical fellowships. She completed a distinguished one-year ASAPS (American Society of Aesthetic Plastic Surgery) endorsed aesthetic surgery fellowship under expert Dr. Kiya Movassaghi in Oregon, as well as an esteemed one-year hand surgery fellowship at Baylor College of Medicine in Houston, TX.
Dr. Cusic was first captivated by plastic surgery during middle school, which quickly transformed into her lifelong passion. She personally understands the impact that plastic and reconstructive surgery can impart on an individual. At a young age she underwent repair of an eyelid ptosis (drooping). After surgery she no longer had to "create the appearance of me every day, I was me." 
*Dr. Cusic is board-eligible.
Dr. Cusic's goal is to understand each patient's desire in relation to their physical concern, and create a tailored plan to help facilitate the expression or restoration of their inside beauty through their outward function and appearance.
"I look forward to the privilege of being a part of your journey."
"Great customer service and facility was beautiful ! Their services were very detailed on my consultation appointment. The doctor and assistance answered all my questions and more! Plastic surgeon Jenna Cusic is amazing! Very sweet and helped me with everything I needed! Wasn't what the doctor wanted it was what I wanted and how she can help me achieve my goals!! I'm very pleased with there services!"
"Dr. Cusic was the BEST! Very detailed and took all precautions very seriously. Very compassionate bedside manner. She was as excited and happy with the surgery success for our son as we were. Her beautiful work has brought so much peace and happiness within him, and I love seeing that radiate through to the smile on his face, glow in his eyes and how relaxed he carries himself."
Get in Touch
With our board-certified plastic surgeons, two state certified surgical operating rooms, an anesthesiologist, and a team of specialized, credentialed nurses Illume provides ready availability for whatever cosmetic service or surgery you need. Let us help you Live Life Beautifully!