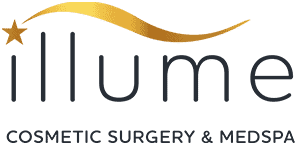 Wisconsin's premier Hair Restoration Clinic
Hair restoration is part art, part science. The art is in the look of the outcome, and the skill and aesthetic of the artist is more important than the science of which brush is used on the canvas. Using a plastic surgeon with a highly-trained aesthetic eye can give a more refined, natural and personalized look than you might get in a high-volume facility. We've all seen persons with hair transplants done in a "less-than-aesthetic" manner.
At Illume Cosmetic Surgery our Board Certified Plastic Surgeons utilize their technical and aesthetic skills to provide each patient with the most natural result possible. Our plastic surgeons use both Follicular Unit Extraction (FUE) and FUT Donor Strip harvesting techniques based on a patients specific needs and conditions.
For Men, FUE harvesting is often preferred, so that they can shave their hair short in the back without worry of a visible scar in the back of the head. FUE hair transplant is a minor surgical procedure that provides an effective solution for hair loss. FUE donor harvesting allows hair follicles to be extracted directly from the scalp in their naturally occurring groups of one to three hairs without a strip of the scalp having to be surgically removed.
Instead of a scalpel, our plastic surgeons use advanced technology to comfortably extract your own individual hair follicles from the sides and back of your scalp, known as the donor site, and then re-implant them where you are experiencing hair loss. The result is a fuller, natural-looking hairline with no visible scarring. The FUE procedure can be done for both men and women.
Get in Touch
With board-certified plastic surgeons, two state certified surgical operating rooms, an anesthesiologist, and a team of specialized, credentialed nurses Illume provides ready availability for whatever cosmetic service or surgery you need. Let us help you Live Life Beautifully!