Illume Gift Guide 2023 – Best MedSpa Deals and Products
With the holidays coming up, the clock winding down, you might find yourself scrambling to assemble the perfect gift list for your loved ones. Luckily, Illume is here to offer you a solution. 
While our Medspas have skin treatments like chemical peels, lip fillers, and microneedling, we also have a lot more to offer. Illume has put together a list of the best Medspa deals and skin products for this season to make your friends and family feel refreshed for the holiday season. 
Treatments from the Medspa
Chemical peels are great for ones that look to improve their skins color, clarity, tone and texture. It is also great for smoothing away the look of fine lines and helps clear up breakouts.  
One of our most popular treatments is our Micropeel with Facial, which offers the effectiveness of a light chemical peel with the relaxing elements of a facial treatment.  
If you know someone talking about wanting to make their lips more defined or plump, this is the gift for them. Lip filler can add volume to your lips, define your cupid's bow, enhance the projection of your lips, and balance asymmetry.  
Give your loved ones with the confidence boost they need with a lip filler treatment.   
Our final medspa procedure that would make a great gift is Botox. While a lot of people may think this is an expensive gift, here at Illume, it can be extremely affordable. The price of Botox with Illume is only $10/unit, all without signing up for a membership and no prepayment requirements. 
If someone you know has been talking about getting Botox, now is the time to surprise them! 
Skincare Gift Idea's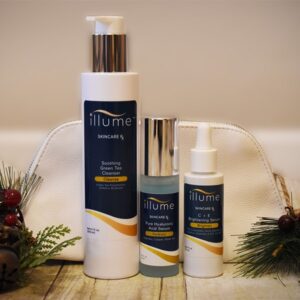 This all-in-one kit embodies simplicity and effectiveness, making it an excellent choice for someone seeking a streamlined yet comprehensive approach to skincare. This is the perfect kit to cleanse, hydrate, and brighten your facial skin. You do not have to worry about pairing the right products, since this is a complete facial kit providing the 3 core products for a facial regime.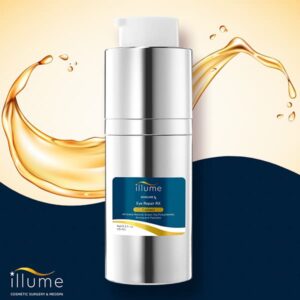 Our Eye Repair RX is a great gift for anyone looking to smooth fine lines and wrinkles and minimize dark circles. Illume's eye repair rx, is perfect for anyone who is trying to reveal more youthful looking eyes. 
Gift cards are the perfect solution when you're unsure about someone's preferences. Offering the freedom to choose, giving your loved ones the power to pick something they truly want. It's the ideal way to show you care while letting them curate their own experience or acquire something they'll genuinely love.  
We offer prices of $25, $50, and $100 gift cards. 
More MedSpa Options with Illume
If you still haven't decided, you can check out our online shopping center here, or contact us to learn more about our products and procedures. From all of us here at Illume, we hope you have a great holiday season and enjoy the time you spend with family!