As we age, our eyes can begin to show signs of wear and tear, with sagging skin, bags under the eyes, and wrinkles. Fortunately, there's a solution that can help you rejuvenate your look and boost your confidence: eyelift surgery, also known as blepharoplasty. 
What Is Eyelift Surgery (Blepharoplasty)
 Eyelid surgery, also known as blepharoplasty, is a surgical procedure to improve the appearance of the eyes. Whether you want to improve your appearance or are experiencing functional problems with your eyelids, eyelid surgery can rejuvenate the area surrounding your eyes. 
What areas can Eyelift Surgery help with?
 Eyelift Surgery can be performed on the upper lids, the lower lids, or both. Specifically, it can treat excess fatty deposits that appear as puffiness under the eyes, drooping lower eyelids, excess skin in the lower lids, and loose or sagging that disturbs the natural contour of the upper eye, sometimes impairing vision.  
Are you the right candidate for Eyelift Surgery? 
 Improvement, not perfection: Eyelift Surgery can help improve the appearance of your eyes and reduce signs of aging, but it cannot completely erase all lines, wrinkles, or other imperfections around the eye. It is important for potential candidates to have realistic expectations about the results that can be obtained with this procedure.   
 We offer these suggestions for other cosmetic treatments, to meet your appearance goals, that eyelift surgery cannot. For example: 
A sagging brow can be tightened and smoothed with a

forehead lift

(limited incision, endoscopic, coronal lift).

 

Crow's feet near the eyes can be minimized with Botox injections or laser resurfacing treatments.

 

Dark circles beneath the eyes that can't be helped by blepharoplasty can be treated with laser treatments, chemical peels, and our medical-grade skincare products.
Eyelift Surgery Recovery and Results
 Your eyelids may be swollen and bruised for 1 to 3 weeks after surgery. The appearance of your eye may continue to get better for 1 to 3 months. Most people feel ready to go out in public and back to work in about 10 to 14 days (about 2 weeks). 
 Eyelift surgery results will vary from person to person but over time they will appear gradually as swelling and bruising subside to reveal a smooth, better-defined eyelid and overall rejuvenated appearance.  
Eyelift Surgery Before and After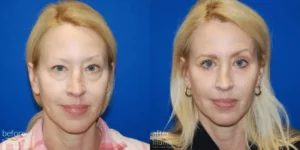 We understand that it can be helpful to see results to better understand the process and really see what you are getting. If you are interested in an Eyelift Procedure and want to get in touch, do not hesitate! We are ready to help rejuvenate and refresh for any occasion and offer complimentary skin consultations. Request a consultation today!