From wrinkles to cellulite, from scars to sunspots, there's no shortage of flaws we find in our skin as we age. But while aging is a totally natural process, that doesn't mean we can't try to slow it down. That's where microneedling comes in.
What is Microneedling?
Microneedling is a minimally invasive cosmetic procedure that's used to treat skin concerns via collagen production. Using tiny needles that make precise, microscopic punctures in the skin, the procedure stimulates the skin to repair itself naturally through a process called dermal remodeling. While the basic premise remains the same, there are several variations that can be used depending on the patient and the desired outcome.
Dermapen with PRP
As a way to enhance the microneedling process, many patients opt to add a platelet-rich plasma (PRP) treatment. PRP boosts the effects of microneedling and can speed up the healing process. Here's how it works: PRP is harvested from the patient's own blood and restored into the skin tissue, either topically or as an injection. The PRP stimulates skin renewal and collagen growth, creating a richer, smoother, glowing look to your skin.
Potenza RF Microneedling
With Potenza, we combine the power of radiofrequency and microneedling into a single, customizable treatment to tighten skin, treat signs of aging, reduce blemishes, and give you a radiant complexion. The microneedling side of the procedure uses ultrafine needles to stimulate the body's natural healing process, while radiofrequency applies heat to deeper layers of skin as to not interfere with melanocytes—meaning it won't lead to hyperpigmentation in darker skin tones. This results in regenerated skin with improved complexion. The Potenza RF procedure can be performed on all skin types, anywhere on the body, any time of year.
Profound
The Profound procedure utilizes a radiofrequency device to help rejuvenate and revitalize the skin at deeper levels, awakening the body's natural healing process. By stimulating the production of three naturally-occurring skin components—collagen, elastin, and hyaluronic acid—Profound tightens the skin and creates more volume and firmness around the treated area. This procedure is especially effective in treating wrinkles around the mouth and the area around the jowls.
Microneedling Results – Before and After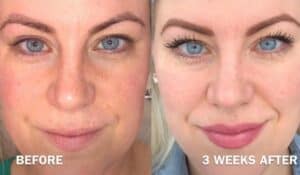 If you're ready to roll back the clock on your aging skin, schedule a consultation with one of our trained professionals today.