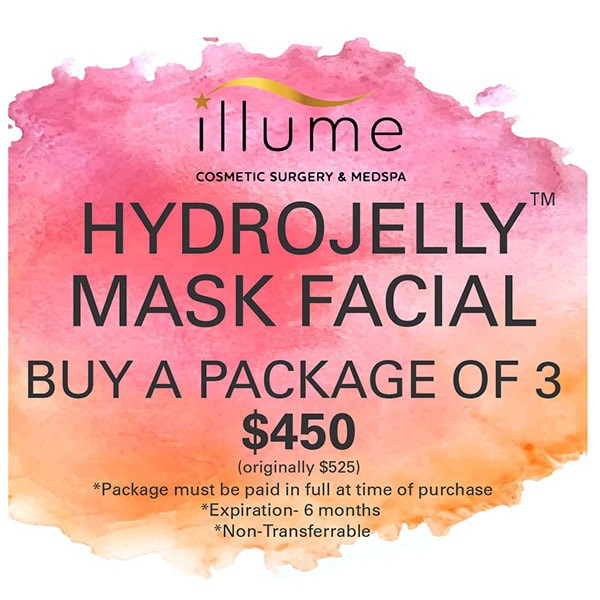 Published on: July 2, 2021
PURCHASE HYDROJELLY FACIAL PACKAGE HERE
Skin hydration is critical when it comes to keeping your skin looking fresh and young. Even if you drink plenty of water, you may not be experiencing sufficient skin hydration to keep your skin looking its best. Illume MedSpa's new Hydrojelly™ mask facials are infused with electrolytes to boost skin hydration.
The Hydrojelly™ Mask Facial is formulated with refined algae, electrolytes, organic active ingredients and zero clays to provide a unique silky texture and function as the mask blankets the skin. This intensive facial compression allows for complete absorption of organic nutrition and electrolytes to the deep layers of the skin. The masks have an instant cooling and soothing effect that is not only refreshing but helps firm, soothe and revitalize the skin for a natural subtle glow.
The most important condition a Hydrojelly™ Mask Facial  is dry skin. If you are suffering from dry skin due to aging, excessive sun or just an inability to get enough water, a mask can help almost instantly. This treatment can also treat inflammation, large pores, hyperpigmentation, sensitive skin and a dull complexion. A wide variety of skin conditions can be relieved to varying extents through the application of a mask. Our skin care experts can help you determine if a Hydrojelly™ Mask Facial is right for you.
---
✨SKIN WARRIOR AGELESS✨
Firming & Elasticity
Skin Warrior Ageless restores and rejuvenates the skin leaving it healthier, firmer and much more radiant. Treat your skin with this refreshing formula infused with ginseng, known for its smoothing and moisturizing properties. Ginseng helps skin feel hydrated and smoothed, leaving behind a glowing complexion.
✨Aids with loss of firmness and elasticity
✨Diminishes fine lines and wrinkles
✨Uses ginseng to hydrate and smooth the skin aiding in dullness and uneven texture
✨Refreshes and restores radiance to tired skin
---
✨BRIGHTENING COMPLEX✨

Inhabits Melanin & Lightens Skin
Lightens pigmentation and promotes an overall more even complexion. Illuminates the skin and promotes deep hydration and balance. Vitamin C from lemon extract is great for improving skin tone while enhancing the overall texture of the skin leaving a lustrous glow. Glutathione accelerates the dissipation of melanin from the skin by inhibiting dark coloration.
✨Reduces pigmentations and lightens overall skin tone
✨Limits over production of melanin
✨Illuminates skin to reveal subtle glow
✨Diminishes appearance of age spots, blemishes, and discoloration
✨Promotes translucent, lustrous and even toned complexion
---
✨ANTIOXIDANT GOJI✨
Regenerating & Radiance
Organic goji berry, rich in antioxidants and Vitamin C, helps repair damaged skin and radiate the complexion. Organic pomegranate halts signs of skin aging and promotes collagen.
✨Rich in antioxidants to help eliminate free radicals and damage to the skin.
✨Promotes anti-aging and anti-oxidant properties due to its high concentration of Vitamin
✨Promotes a translucent, lustrous and even-toned complexion
✨Helps facilitate skin repair by promoting dermis and epidermis regeneration.
Improves skin vitally and energy
✨Increases collagen levels and boosts skin fullness.
HYDROJELLY™ MASK FACIAL $175
✨CLEANSE- remove make-up, dead skin cells, oil, dirt, and other types of pollutants from the skin
✨ DERMAPLANE-  uses an exfoliating blade to skim dead skin cells and hair from your face
✨ FACIAL STEAM- opens up your pores and helps loosen any buildup of dirt for a deeper cleanse
✨ EXTRACTIONS- involves the process of clearing clogged pores
✨ HYDROJELLY MASK-  This mask will work its way into the deeper layers of your skin to replenish and hydrate
✨ ICE GLOBE MASSAGE- Soothes redness, and decrease inflammation and the appearance of large pores
✨ MOISTURIZE- helps seal in moisture and repairs the skin barrier that's compromised by dry air and harsh cleansers