SkinMedica™ offers high-quality skin care products intended to treat common female skin conditions, including hyperpigmentation, redness, discoloration, acne and fine line and wrinkles.
SkinMedica™ physician-grade products offer clinically demonstrated efficacy. SkinMedica™'s professional-strength skin care products are the result of over a decade of research and clinical use. These products have been distinguished over the years to meet female patient demands for elegant formulations that are easy to use and meet the necessities of each patient's specific needs.
L'image Skin Spas offers a variety of SkinMedica™ products aimed at meeting the needs of our female clients and their concerns including acneic conditions and anti-aging, skin rejuvenation concerns. SkinMedica™ acne skin care products and anti-aging products include:
SkinMedica™'s TNS Regeneration System - Reverse the Effects of Time
SkinMedica™ TNS Recovery Complex withVitamin C and Retinol Complex- contains naturally occurring growth factors, anitoxidants, soluble collagen, cytokins and matrix proteins and has been proven to:

Reduce the appearance of fine lines and wrinkles
Diminish the appearance of age spots and dyspigmentation
Improve skin texture, tone an delasticity
Reduce roughness and photodamage (sun damage)

SkinMedica™ Vitamin C Complex- This highly stable, concentrated Vitamin C formulation contains 15% vitamin C for extraordinary antioxidant protection to promote cell renewal and improve skin tone and texture.
SkinMedica™ Retinol Complex- This formulation includes three distinct vitamin A derivatives that penetrate the skin at different rates through a sustained release delivery system, improving the appearance of fine lines and texture, and accelerating cell turnover.
Bleaching agent used to dramatically reduce sun damage age spots.
Lytera Skin Brightening Complex by SkinMedica™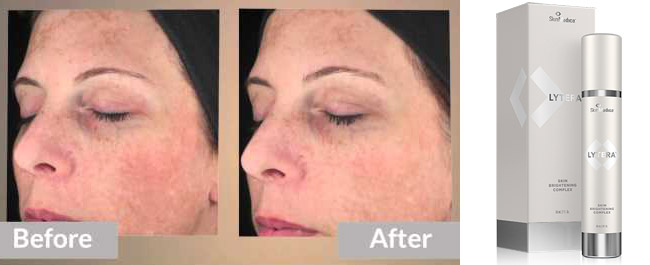 Lytera is a simple and effective approach to skin brightening.  Benefits include:
Easy to use and apply
Non-prescription, Hydroquinone-free
Reductions in visible dark spots with continued use
Appropriate for all skin types
What makes Lytera unique?
Lytera is a novel, non-prescription, non-hydroquinone skin brightening product that minimizes the appearance of skin discoloration and dark spots. Clinical studies with Lytera have shown:
High patient satisfaction:
Improvements seen as soon as 4 weeks
Significant reduction after 12 weeks
Continuous reduction over 6 months
To make this procedure accessible to all our patients we provide Financing options.
Call (414) 439-3000 for a cosmetic consultation.